Lotto-Dstny sports director to miss Tour de France after allegations of 'transgressive behaviour'
Allan Davis was alleged to have sent an unsolicited image on social media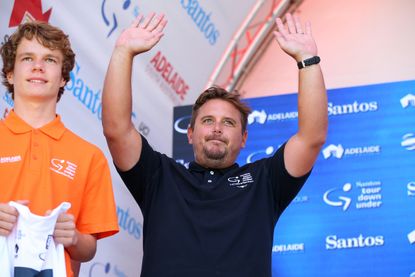 (Image credit: Getty Images)
Lotto-Dstny sports director Allan Davis was stood down from the Tour de France after allegations that the Australian sent unsolicited messages on social media.
The DS was scheduled to join the team in Bilbao for the Grand Départ, but will not appear following the incident, which Lotto called a "personal case".
"The team will not react on a private matter that came out Tuesday concerning sports director Allan Davis," Lotto said in its first statement earlier this week.
"It's a personal affair, and this has nothing to do with Lotto Dstny. Allan will not be in the Tour de France in order not to mix personal matters with team matters."
Davis was accused on social media of sending unsolicited direct messages to a woman on Twitter; the woman posted screenshots of said messages earlier this week.
Cycling Weekly reached out to Davis for comment, but he had not responded at time of publication. This article will be updated if he does make a statement.
In a statement on Twitter, the woman, who has asked to remain anoynmous, said: "I'm a cyclist, a writer and a woman and I have a voice, and I will use it."
She told Cyclingnews that she had originally thought Davis had contacted her after she posted about looking for work: "I thought maybe I would give him the benefit of the doubt. Then he sends me photos. I kept trying to redirect the conversation to that I was looking for a job and a bit about myself.
"I ended the conversation by saying I needed to go out for a ride to end the conversation. He messaged again, and that is the one that is on Twitter. I was disappointed. I felt cheap."
"I don't want people to feel scared to speak out," she continued. "That is one of the things that I see when people have messaged me. They are really scared. I don't want other women to feel like that. I would like this to be a takeaway for women not to feel intimidated. That was why I was a bit more open," she said.
Lotto published a statement on its website on Wednesday, explaining why Davis would not be present at the Tour.
"Lotto Dstny has taken notice of the allegations of transgressive behaviour, expressed towards a sports director of the team and published by a person on Twitter," the team statement read.
"'Please note that this is a personal case," Lotto wrote, "and this has nothing to do with the team. In order to keep the peace, it has been decided, by mutual agreement, to keep the sports director out of the Tour de France."
"The team will not make additional comments on this case and asks to respect the privacy of those involved."
Thank you for reading 20 articles this month* Join now for unlimited access
Enjoy your first month for just £1 / $1 / €1
*Read 5 free articles per month without a subscription
Join now for unlimited access
Try first month for just £1 / $1 / €1