Luke Durbridge does the double in Australian champs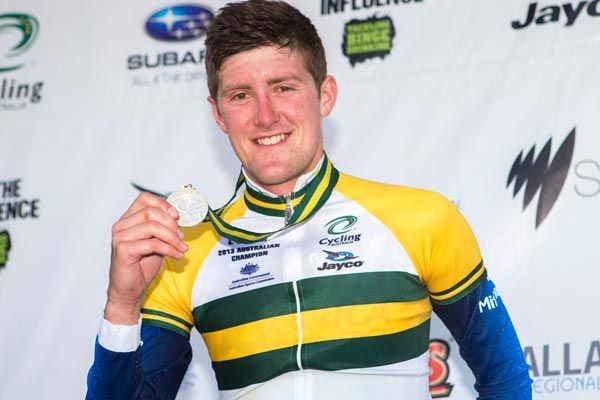 Luke Durbridge has become the first cyclist in more than a decade to win both the time trial and road race Australian national championship titles in the same year.
Durbridge was the only survivor of an original seven-man break that established within the opening 10km of Sunday's 195.6km road race finishing one minute and four seconds ahead of Orica-GreenEdge team-mate Michael Matthews, who won the bunch sprint for silver, with sprinter Steele Von Hoff (Garmin-Sharp) claiming bronze.
Durbridge on Wednesday powered to his second consecutive time trial crown ahead of 2012 under-23 champion Rohan Dennis and Matthews.
"I've been working really hard back in December. I've trained well, I have some great support staff at WAIS (Western Australian Institute of Sport) back home and no track, maybe, potentially," Durbridge told Cycling Weekly.
"I had a really good break at home and mentally refreshed for the season. I think that was it. I had really good family time, got to see my girlfriend, and got to stay home in Perth for three months, which was fantastic. You can't really beat Perth training."
The 21-year-old bowed out of the track endurance squad, and London Olympic Games selection, in March last year and, if his burgeoning road results are anything to go by, is unlikely to return to the veldodrome.
Durbridge as a rookie pro in 2012 celebrated eight victories including the opening time trial stage of the Criterium du Dauphine in June and overall honours at Circuit de la Sarthe and the Tour du Poitou Charentes.
He did not name any big objectives for the season after his emphatic solo victory but is set to start the Giro d'Italia in May, alongside Matthews, which includes two individual time trial stages and one team time trial. 'Turbo Durbo' was part of the Orica-GreenEdge squad that finished third at the world team time trial titles last year.
"Now I'm just going to enjoy this," he said. "I'm off to Europe after the Tour of Langkawi so at that point I'll assess. I'm doing my first Grand Tour this year, which is the Giro, so full focus for that."
Bernard Sulzberger (Drapac) was the last of Durbridge's breakaway companions to drop out of podium contention. He was unable to follow the gold medalist, who surged ahead on the main climb of a 10.2km finishing circuit with two laps to go.
Race organisers altered the previously fixed course road championships this year but it was not conducive, as some had hoped, to a bunch sprint and still featured a high attrition rate, which in the men's race was roughly 50 per cent despite cooler conditions.
On Saturday Grace Elvin won the women's road title ahead of Joanne Hogan and Carla Ryan. Shara Gillow claimed her third consecutive time trial crown earlier in the week.
Damien Howson, who was third in the under-23 time trial world championships last year, won gold in the men's under-23 national time trial and was second to Jordan Kerby in the under-23 road race.
Twitter: @SophieSmith86
Men's 195.6km road race results
1. Luke DURBRIDGE (WA) 5:00:46
2. Michael MATTHEWS (ACT) +1:04
3. Steele VON HOFF (VIC)
4. Neil VAN DER PLOEG (VIC)
5. Christopher SUTTON (SA)
6. Jay MCCARTHY (QLD)
7. William WALKER (VIC)
8. Zakkari DEMPSTER (VIC)
9. Simon GERRANS (VIC)
10. Bernard SULZBERGER (TAS)
Women's 106.6km road race results
1. Gracie ELVIN (ACT) 3:01:07
2. Joanne HOGAN (VIC)
3. Carla RYAN (QLD)
4. Miranda GRIFFITHS (VIC)
5. Ruth CORSET (QLD) +18
6. Shara GILLOW (QLD)
7. Tiffany CROMWELL (SA)
8. Rachel NEYLAN (SA)
9. Grace SULZBERGER (TAS) +20
10. Peta MULLENS (VIC) +1:19
Under-23 men's 137.2km road race results
1. Jordan KERBY (QLD) 3:19:48
2. Damien HOWSON (SA)
3. Jack HAIG (VIC) 0:00:03
4. Aaron DONNELLY (NSW) 0:00:44
5. Brendan JOHNSTON (ACT) 0:00:46
6. Mitchell LOVELCK-FAY (ACT)
7. Sam CROME (VIC) 0:01:06
8. Michael CROSBIE (VIC) 0:01:08
9. Scott LAW (NSW) 0:01:15
10. Ryan MACANALLY (QLD)