Maindy Flyers CC say moving Cardiff velodrome risks them missing the next Geraint Thomas
Earlier this week, historic Welsh club where Geraint Thomas, Owain Doull and Elinor Barker started out released open letter detailing their opposition to relocation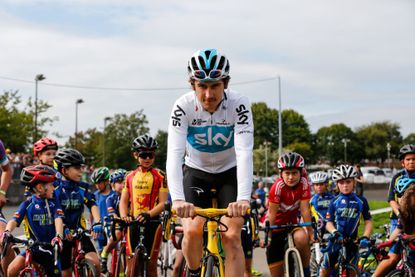 (Image credit: Getty Images)
Maindy Flyers Youth Cycling Club has come out in fierce opposition to Cardiff Council's plan to move its historic outdoor velodrome to a new location in Cardiff Bay.
The club believes that the proposed relocation to elsewhere in the city could halt a pipeline of top cycling talent.
Formed in 1995, the club based in Maindy Park, Cardiff was where 2018 Tour de France winner Geraint Thomas started out. Other professionals from both the men's and women's WorldTour including Owain Doull and Elinor Barker started out cycling with the club on its historic velodrome.
Cardiff City Council are seeking to acquire Maindy Park, and the club's track, as part of its expansion plans for a nearby school. A new cycling facility for the club in Cardiff Bay - part of a wider sporting development project - has been proposed but in an open letter to Cardiff Council the club say the plans are unsuitable.

Speaking to Cycling Weekly, club spokesman and committee member Alan Davis said the club's biggest worry was that moving to a new location in Cardiff Bay could stop them attracting new members.

"It's a matter of record that Geraint [Thomas], Elinor [Barker] and Owain [Doull] all happened to be at Maindy for something else. While they were there they saw cycling going on and thought they'd like to give that a go," he said. "If it wasn't for that community element, none of those three riders would have been cycling today."

Davis explained the club were being forced into making a "series of compromises" in the move to the new Cardiff Bay development that he clearly felt would undermine the club's ability to do some of the work it has become famous for.

"We've had a number of meetings with the council, and we've made a number of requests which have been completely disregarded," Davis said. "We've reached the stage now where this has gone in for planning permission, and they're ready to make a business case to build it. There are so many compromises with this."

"We have to move out of being a community club and move to the bay. We have to accept a smaller track than the one we've already got, and we have to accept a different design of track, which we're very concerned about," Davis added. "It may not be suitable for the very young riders that start with us. So it's just one thing after another."
Members in favour of remaining at Maindy Park
When Cycling Weekly put Davis's concerns about the size of the track to Cardiff Council, a spokesperson for the council said it had sought specialist guidance on the design.

"The council has been guided by expert technical advice on the design of the velodrome track that has confirmed that the track geometry will be suitable for riders of all ages and at all levels, using both road and track bikes, and during adverse weather conditions," they said.

"While the Council fully understands the historic nature of the Maindy site, and of course Maindy Flyers' deep connection to the site, the new Velodrome retains the support of the National Governing Bodies for Cycling and other sports," they added. "Including Triathlon and Athletics, and other cycling and sports clubs and groups within the city, including those who frequently use the existing facility at Maindy."

According to Maindy Flyers, they have been kept in the dark over the design of the track. Davis told CW that communication from the council throughout the whole process had been "patchy".

"The first we knew that the banking on the track had gone up to 28 degrees was when the council applied for planning permission," Davis said. "They never came and said to us this is going to happen, or why this is going to happen or sought any opinion from us or any other users"

Meanwhile, Davis explained that a vote amongst the club's membership revealed that many were against the proposed relocation.
"We persuaded the committee and the chair to have a vote amongst all the membership to find out exactly what they want to do, the membership being predominantly under 16 riders," he said. "That voted 2-1 in favour of campaigning to stay at Maindy and to try and find a solution that enables us to remain at Maindy Track."
Another grey area in the potential relocation plans is what Davis described as a "conflict of interest" at Cardiff City Council.
"When the council said that they wanted to do this and develop this land, they were working under the presumption that they already owned the land and that it was a council park," Davis said. "But it isn't, the land was donated to the people of Cardiff by the Butes and it's covered by a covenant. It's actually run by a trust, a charity called the Maindy Park Trust, but the charity is then run by the council."
"So there's a huge conflict of interest at the council."
Thank you for reading 20 articles this month* Join now for unlimited access
Enjoy your first month for just £1 / $1 / €1
*Read 5 free articles per month without a subscription
Join now for unlimited access
Try first month for just £1 / $1 / €1