Marianne Vos: The Big Interview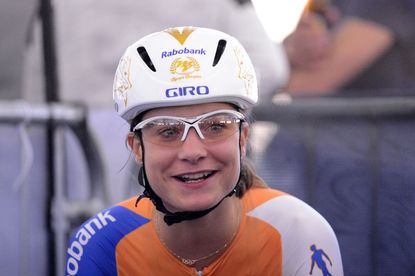 Marianne Vos is the best professional cyclist in the world, a colossus bestriding women's cycling. At just 25, she has already won everything there is to win, in most cases more than once: cyclo-cross, road and track world titles, the women's World Cup, Olympic track and, latterly and most memorably, Olympic road race gold.
We'd run out of space listing her achievements, but 2012 was a self-professed "best year ever": she beat Lizzie Armitstead to Olympic gold and took a world title in her back yard, a second Giro win, the World Cup classification and a cyclo-cross world title.
Before she (predictably) won the second Revolution round in Manchester, we caught up with versatile Vos, talking voracity, motivation and what needs to change in women's cycling.
CW: How has the off-season gone?
MV: I've had some good holidays. I went to Cyprus without my bike, and Curaçao to do the Amstel Race there. This year, I've been on the bike but not training properly. I needed that, to recover and get fresh in my head.
A few months on, how do you feel about Rabobank pulling out?
MV: It was a shock, but not really surprising. I can understand the decision because it's hard to keep the trust, to keep the good name of your bank if the trust is not there in the sport. First, we have to work on the sport so that public opinion can change. I feel frustrated with where we are at in cycling in general. The men's teams call themselves the victims of the past, but it is how it is. All we can do is not forget the past; only when things in the past open can we look forward.
How many times were you dope tested this season?
MV: Not enough. Out of competition, only three or four times - that's way too little. For me, the best rider in the world! [Average for men is five - three blood, two urine]. In competition last year, I believe it was 43 times: a lot, but it's only if you win a lot. Out-of-competition tests have to be more widespread.
How were you before the Olympics?
MV: I knew I was in good shape, had a good team and that I could possibly win. Of course, it was not really a circuit where you could easily be the best. It made the pressure even greater and the race harder.
Normally in the race, I'm not really nervous. But I felt Lizzie [Armitstead] was so strong, and that made me doubt myself. It was going to be a sprint with Lizzie and we both have the same sprint capacity. That makes it hard: it's all down to timing. Maybe I was one per cent better in the sprint, but I timed it right.
We've heard you don't react well when you lose.
MV: You don't want to see me for 10 minutes after I lose. After messing up in Copenhagen [finishing second in the 2011 World Championship road race], I threw things that couldn't break: my gloves, my bottle. I said sorry on the podium to my rivals because I was a bad loser.
Have you always been like that in life?
MV: Oh yes. Even at eight years old, I lost a race and... if someone's better, I accept that.
In Copenhagen, I made the wrong decision in the sprint: if I had gone earlier, I could have won the world title. I was angry at myself, I always am if I lose. I don't like not being good at something. I don't even like playing games - and people don't like playing games with
me because I'm a bad loser.
Does the bike help you to sort things out emotionally?
MV: Yes - you have time to think. The bike gave me the opportunity to show myself and what I'm good at. I don't talk or open up easily. That helped me to get to know myself better and also to get more confidence. At first, people only see you as a result; now people see the person behind the athlete.
Are you worried you'll struggle with motivation in the next few years?
MV: I was worried about that. After winning points race gold in Beijing in 2008, it was easy to get a new goal and stay motivated every day. After the Worlds in Valkenburg, I didn't have a schedule and I asked myself, 'What's my motivation? My schedule, my daily life, what is it?' After a few weeks already, I felt, 'I just like cycling, I like the competition.' When I was back, racing cyclo-cross in Gieten, it was great. But I realise now, you have to get some new challenges to keep it fresh.
Your old directeur sportif Jeroen Blijlevens was saying you might do mountain bike racing too.
MV: Yeah, I want to start with training for that, because I need the technical skills, though I did mountain biking as a junior. I'll try and see what's possible in the next few years.
Is it ever easy for you? It can look easy.
MV: Never. OK, I win a lot of races. If you only see the results, it's not interesting. I ask myself, 'Am I good for the sport?' You could say no because it appears boring. But if you see all the races, it's technical, tactical, every interesting aspect of cycling is visible in every race. So I hope we can show it more and people can go, 'Wow, this is great to watch, they attack from the beginning, it's short, open racing.'
What is the most important, realistic short-term change you'd like to see in women's cycling in the next few years?
MV: I'd like to see the Tour de France. We need a platform. We only have the World Championships annually broadcast [widely]. What we need is people seeing how we race and understanding from that.
The Tour de France is what people watch, that's where the world of cycling - media, fans, spectators - is. It would be great to have perhaps a two-week Tour [parallel to the men's race] rather than three. It might be that we do laps around the finish circuit but I don't care! It has to be professional, we will race and we would make it great.
The original version of this article appeared in the January 10 2013 issue of Cycling Weekly
Thank you for reading 10 articles this month* Join now for unlimited access
Enjoy your first month for just £1 / $1 / €1
*Read 5 free articles per month without a subscription
Join now for unlimited access
Try first month for just £1 / $1 / €1
Founded in 1891, Cycling Weekly and its team of expert journalists brings cyclists in-depth reviews, extensive coverage of both professional and domestic racing, as well as fitness advice and 'brew a cuppa and put your feet up' features. Cycling Weekly serves its audience across a range of platforms, from good old-fashioned print to online journalism, and video.