Mark Cavendish and Omega Pharma team boss unhappy with lack of sprint support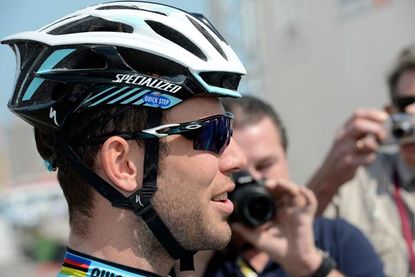 Mark Cavendish and his Omega Pharma-QuickStep sprint train misfired today in Belgium's Scheldeprijs one-day race. In fact, according to team boss Patrick Lefevere, it was an outright failure.
"Everything that could go wrong went wrong today. They have fear to fail," an upset Lefevere said at the team bus in Schoten. "Everything that [Sports Director] Wilfried Peeters told them this morning, they did it the other way around. They don't have enough balls."
Cavendish won the Scheldeprijs three times before, including his 2007 break-through win. Though finishing second today, it was not enough.
Lefevere wants the most out of his costly contract with Cavendish. To get results, he feels Cavendish needs to do a better job and the others need to step up, or leave.
Disorganised
Omega Pharma's Iljo Keisse and Martin Velits led for the early moments of the race. Andy Fenn, Guillaume Van Keirsbulck, Stijn Vandenbergh and Gert Steegmans came to the fore later.
The team, however, failed to rally around the former World Champion and the rider regarded as cycling's best sprinter.
"Perhaps I have to find some new riders next year. It would've been different with a guy like [Tony] Martin or Michal [Kwiatkowski]; if they pull for a couple kilometres, then you get a totally different situation," Lefevere continued.
"A few guys need to realise that things have to change. If you are afraid, you shouldn't ride for Omega Pharma, but for Accent Jobs.
"[Keisse and Velits], I can't blame them, but the other guys... Look at Steegmans, he has the body to do the job. I'm not happy.
"Also, Mark could have told them at 17 kilometres to finish that it was too early to lead the peloton that was unnecessary."
'Left alone'
Cavendish is a true competitor and does not like losing. When he misses out, he is moody and hard to approach.
He tipped his hat to Marcel Kittel, but indicated things are not right in the Omega Pharma camp.
"I've got beaten by Marcel Kittel, he's one of the best guys," Cavendish said softly, seemingly not wanting to speak.
"The guys rode brilliant the whole day, and once again I was left alone in the final ... [I'm] disappointed."
Cold European spring
Since Cavendish's early wins in Argentina and Qatar this year, wins have not come easily. The cold European spring, it seems, has not allowed Omega's machinery to function properly.
Cavendish took the leader's jersey in Tirreno-Adriatico after the team won the time trial. The next day, however, the vibe changed.
"I'm quite disappointed in my lead-out to be fair. I know they can be better than that," Cavendish after a rain-soaked stage to Indicatore. "I feel we could've done better."
The next day, he lost to Peter Sagan (Cannondale).
In the Three Days of De Panne, he pulled off his first European win of 2013. Behind his celebrations, flaws existed. Cavendish shot ahead with his team-mate, but slowed and re-started his sprint.
Lefevere told Cycling Weekly at the time it was not a proper lead out, and what it did do was not perfect.
"It's not only been today, the lead out hasn't work this season," Lefevere continued outside the bus in Schoten. "For instance, when he won that stage in De Panne that was because it was a very tough sprint."
Lefevere must now re-tool Omega's machinery ahead of the Grand Tours. They have the Giro d'Italia and Tour de France in sight, but with these misfires, wins will be hard to come by.
Thank you for reading 20 articles this month* Join now for unlimited access
Enjoy your first month for just £1 / $1 / €1
*Read 5 free articles per month without a subscription
Join now for unlimited access
Try first month for just £1 / $1 / €1