Mark Cavendish's new book, At Speed, hits the shops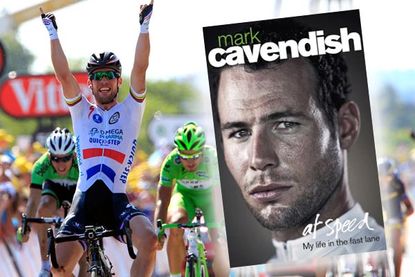 With At Speed Mark Cavendish has produced what amounts to volume two of his autobiography. In part one, he was on his way to the top this is about what it's like when he gets there.
"Boy Racer was about where I came from and stopped at the point I had won four stages of the Tour, this is about what has happened since then," said Mark Cavendish in the London boardroom of Random House, the publishers of his latest book, At Speed: My life in the fast lane
To be fair to Cavendish, he's crammed a hell of a lot into the last four years - a world road title, points jersey wins in all three Grand Tours, the London Olympics, marriage and the birth of his daughter Delilah as well as three team changes.
At Speed closes at the end of the 2013 Tour of Denmark, wherein Cavendish is forced to ponder his future with the arrival of a rider who he clearly regards as a serious sprint rival, Marcel Kittel. Having effectively seen off Andre Greipel, Mathew 'Gossy' Goss, Alessandro Petacchi and Mark Renshaw, the 28 year old is now being chased by young gun Kittel.
The book starts with a fantastic recreation - which reads like a real insight - into the finale of the world road race championship in 2010, then goes back to his days with HTC, the Copenhagen dry run at the Melbourne world championships, the transfer to Sky as well as the explanation for all those little hiccups and incidents along the way.
The book was co-written by UK journalist and author Daniel Friebe and he's done a great job of translating Cavendish's mercurial character onto the written page. "These are my words, it's a book that let me get my words and my feelings across, whether people want to read it to see about my life or read it to like me or read it to hate me it doesn't really matter, these are my words, it's how I feel."
The behind the scenes stories from the races and training camps, the bust-ups with DS's, team mates will be enjoyed by those who have followed the Manxman's career over the seasons and for those who are relatively new to following the sport, there are passages that will add to their understanding of what it takes to ride in the 'grupetto' in a Grand Tour.
While the book is a free-wheeling though chronological account of the years from 2008 to the present, there's not much in the way of philosophy contained in its 312 pages and, perhaps curiously, nothing that really explains the 'Bad Boy' image. You'd never know that Cavendish was a car fanatic, a bit of a fashionista or friend of designer Paul Smith or MotoGP rider Cal Crutchlow.
What you do learn is that Cavendish can be funny, self-lacerating, brutal, infuriating, fastidious, focused and foul-mouthed. It's a book that even experienced race fans will find some new insights within, giving a better understanding of what it takes to be a world class sprinter and having the expectation of a 'new' cycling nation on your shoulders.
At Speed: My life in the fast lane is published by Ebury Press, it's out in hardback on November 7, priced £20 from, yes, 'all good bookshops'.
Also available to purchase at the Cycling Weekly Shop.
For a chance to win a copy of 'At Speed' by Mark Cavendish visit our competitions page.
Thank you for reading 10 articles this month* Join now for unlimited access
Enjoy your first month for just £1 / $1 / €1
*Read 5 free articles per month without a subscription
Join now for unlimited access
Try first month for just £1 / $1 / €1