Matt White aiming for record pie count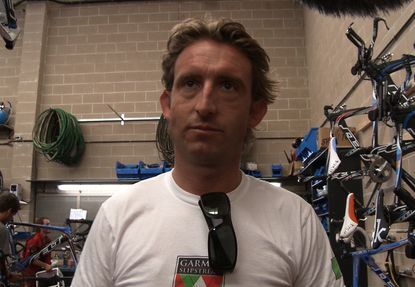 Australian sports director Matt White tucked into his ninth pie at the Tour Down Under today and is determined to break his own record by the end of the week.
White is directing 'home' team Orica-GreenEdge to what he hopes will be overall victory via Simon Gerrans, who has worn the ochre leader's jersey since stage one. However, he is also on a mission to break his own record of 15 pies set at the 2011 edition of the race.
The Tour Down Under Pie Count, as he refers to it, has one basic rule: pies only. Sausage rolls and the like don't count.
"I have to step it up to two or three a day now," he told Cycling Weekly.
White appeared unhappy prior to the start of stage three here this morning when his quintessential tucker was delivered with tomato sauce on the bottom, and not top.
The 39 year old opened his count at Sunday's criterium prelude. If his performance is as good as the one his team is consistently registering on the road, 15 plus shouldn't be an issue.
Surprisingly, the former professional doesn't appear out of shape.
Twitter: @SophieSmith86
Thank you for reading 5 articles this month* Join now for unlimited access
Enjoy your first month for just £1 / $1 / €1
*Read 5 free articles per month without a subscription
Join now for unlimited access
Try first month for just £1 / $1 / €1
Sophie Smith is an Australian journalist, television reporter and presenter, who has provided coverage for Cycling Weekly from races across the world. She has covered eight Tours de France, as well as reporting for national and international newspapers as well as other magazines.
Follow Sophie Smith on Twitter and Instagram:
Instagram: sophiesmith86
Twitter: @SophieSmith86