Menchov takes penultimate Vuelta stage as contenders have one last dig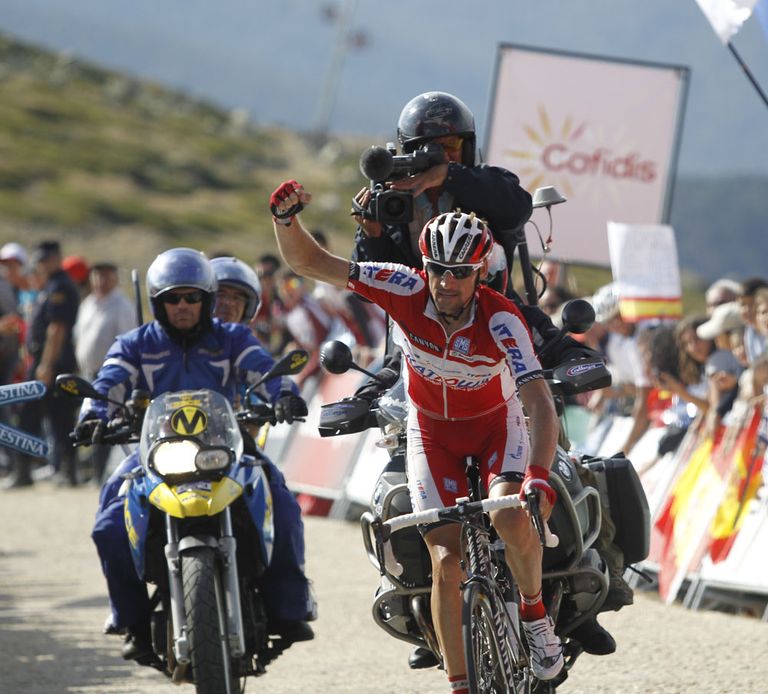 Billed as a 'now or never' Vuelta a Espana stage for both the general classification as well as teams looking to salvage something from the race, it turned out to be a bust on both counts - though not for want of trying. Denis Menchov won the stage to save his season, although it was hardly compensation for Katusha not carrying off the overall.
As far as the battle for the overall classification went, Menchov's team leader Rodriguez gave it his best shot inside the final four crazy steep kilometres, but it was never going to be enough to recover the more than two minutes lead Contador had on him at the start of the day - short of Contador breaking down physically or mechanically. It didn't happen and Contador has - barring disasters - won the 2012 Vuelta.
Predictably, a weary looking bunch allowed a break of no fewer than 20 riders to go clear at 18 kilometres and they rode steadily away for a lead of 10-56 with around 70km to go. At which point, for reasons we can only speculate about, the entire Euskaltel team made its way to the front of bunch to make sure that was as big as the lead was going to get. In as much as their team leader Igor Anton was sitting in ninth place overall and had appeared to be struggling for most of the race, it looked like a desperately hopeful move. Either that or they were riding for Contador.
On a day where temperatures were positively clement and the roads were damp in places, Tony Martin of Omega Pharma decided not to bother risking his still healing wrist and packed. Having battered himself for the best part of three weeks, the German obviously reckoned that he had done enough 'training' for the upcoming World time trial championships. If he fails to get on the podium in Maastricht it'll be a shock.
Although the efforts of Euskaltel and later Movistar reduced the advance of the escapees, the break still had the best part of five minutes as they approached the final climb to the summit of the ski station at Bola del Mundo. But by the time the break hit the lower slopes of the nine kilometre climb, they were quickly whittled down to six, although they all looked legless. Less weary legs were attached to Richie Porte (Sky), Denis Menchov (Katusha), Frederik Kessiakoff (Astana), Kevin De Weert (Omega Pharma) and Eros Capecchi (Liquigas), though very quickly there was a leading trio battling it out for the stage win - De Weert, Menchov and Porte.
Behind, in the peloton reduced to around 30 riders, Euskaltel and Movistar were still trying to scare Contador and his Saxo henchmen, but it didn't look like it was working, proof of which was evinced by the fact that the two leaders - De Weert had been distanced - were climbing at more or less the same pace as the GC contenders.
With only 2.7 kilometres to go, Menchov and Porte were battling on the ski lift service road, another ridiculously steep piece of concrete, as though the organisers thought it would be interesting to take the riders up a glorified goat track. A road so steep and narrow lined by crowds so deep that any attack would have required a shoulder charge to barge the crowd out of the way first. It's bike racing Jim, but not as we know it...
On the Bola del Mundo climb there were only 11 riders left in the lead group. Then five, with Dani Moreno riding strongly for J-Rod who looked to be winding himself up for an attack. Sure enough, the points classification leader's first attack put Valverde in difficulty while his second effort, trying to shift Contador, did the job as the road ramped up to 17%.
However, lest we forget, Contador had 2-21 over 'Purito' and in the end, that's what counted. Rodriguez gave it everything, but Contador was smart enough to understand he didn't need to chase down Rodriguez, he didn't need to be battling for 11th place on the stage and he crossed the line still managing to come up with his 'Pistolero' handgun gesture, because he knew he had won the Vuelta.
In the end it looked close for Purito, but no cigar, as the top three on GC stayed in the same positions, albeit with slightly different time gaps. Game over.
Results

Vuelta a Espana 2012, stage 20, La Faisanera Golf - Bola del Mundo

1. Denis Menchov (Rus) Katusha 170.7km in 4-48-48
2. Richie Porte (Aus) Team Sky at 17secs
3. Kevin De Weert at (Bel) Omega Pharma at 42secs
4 Frederik Kessiakoff (Swe) Astana at 1-16
5. Romain Sicard (Fr) Euskaltel at 1-39
6. Eros Capecchi (It) Liquigas at 2-30
7. Maxime Bouet (Fr) AG2R at 2-39
8. Simon Geschke (Ger) Argos Shimano at 3-14
9. Joaquin Rodriguez (Sp) Katusha at 3-31
10. Alejandro Valverde (Sp) Movistar at 3-56
12. Alberto Contador (Sp) Saxo Bank Tinkoff at 4-15
15. Andrew Talansky (USA) Garmin Sharp at 4-34
19. Chris Froome (GBr) Team Sky at 4-43
General classification after stage 20

1. Alberto Contador (Sp) Saxo Bank Tinkoff
2. Alejandro Valverde (Sp) Movistar at 1-16
3. Joaquin Rodriguez (Sp) Katusha at 1-37
4. Christopher Froome (GBr) at Team Sky at 10-16
5. Daniel Moreno (Sp) Katusha 11-29
6. Robert Gesink (Hol) Rabobank at 12-23
7. Andrew Talansky (USA) Garmin Sharp at 13-28
8. Laurens Ten Dam (Hol) Rabobank at 13-41
9. Igor Anton (Sp) Euskaltel at 14-01
10. Benat Intxausti (Sp) Movistar at 16-31
Joaquin Rodriguez distances Contador and Valverde
Alberto Contador
Denis Menchov wins the stage
Related links
Vuelta a Espana 2012: Coverage index
Vuelta a Espana 2012: Reports
Stage one report: Movistar win team time trial
Stage two report: Degenkolb wins, Swift third
Stage three report: Valverde victorious after Contador attacksStage four report: Rodriguez takes over lead after Valverde crashesStage five report: Degenkolb wins again
Stage six report: Froome gains time on ContadorStage seven report: Degenkolb makes it three at Vuelta
Stage eight report: Valverde doubles his score in AndorraStage nine report: Gilbert pips Rodriguez in Barcelona
Stage 10 report: Degenkolb continues unbeaten sprint record
Stage 11: Rodriguez hangs onto lead as Kessiakoff wins time trial
Stage 12: Rodriguez wins stage 12 to extend Vuelta lead
Stage 13: Cummings returns to winner's circle in Spain
Stage 14: Rodriguez stakes claim with Vuelta mountain-top win
Stage 15: Rodriguez rules at Covadonga as Froome loses time
Stage 16: Rodriguez strengthens lead as Froome keeps fourth
Stage 17: Contador turns Vuelta upside down with stunning stage win
Stage 18: Bennati pips Swift to stage win
Stage 19: Gilbert claims win number two in Spain
Vuelta a Espana 2012: Photos
Stage one TTT gallery
Stage two gallery
Stage three gallery Stage four galleryStage five gallery
Stage six gallery
Stage seven gallery
Stage eight gallery

Stage nine gallery

Stage 10 gallery
Stage 11 gallery
Stage 12 gallery
Stage 13 gallery
Stage 14 gallery
Stage 15 gallery
Stage 16 gallery
Stage 17 gallery
Stage 18 gallery
Stage 19 gallery
Vuelta a Espana 2012: Latest news
Porte puts Olympics snub to the side ahead of Vuelta debut
ITV to show Vuelta highlights
Froome to lead Sky at Vuelta
Degenkolb just can't stop winning
Vuelta a Espana 2012: Start list

2012 Startlist
Vuelta a Espana 2012: Route info and analysis
Vuelta a Espana 2012 route revealed
Vuelta 2012 route leaves time triallists out in the cold