Metaltek-Knights of Old take first Tour Series win in Redditch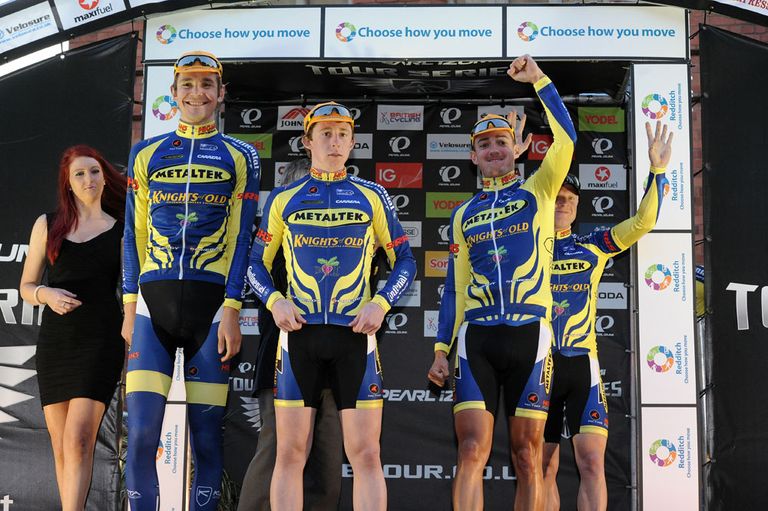 Metaltek-Knights of Old have taken their first win in the Pearl Izumi Tour Series following confusion in the final four laps of the race in Redditch, won in fine solo style by Tom Scully (Raleigh).
After a five-man break containing Scully had lapped the main peloton, riders appeared unsure as to which lap would count towards the final results. Three Metaltek riders led the bunch over the line with three laps showing on the board. However, many teams appeared not to contest the sprint until a lap later.
The confusion, however, should not overshadow what was an impressive showing from Raleigh's Kiwi rider, who set off on his own with over eight laps to go and never looked like being caught.
UK Youth, despite finishing down the order on the night, remain in the red jerseys of overall series leaders with five rounds to go.
Earlier in the evening Hannah Barnes (MG-Maxifuel) took her second individual win of the series, sprinting to the line ahead of Laura Massey (Abergavenny RC) and Charline Joiner (MG-Maxifuel) to extend her lead in the series. Her team also took the team prize on the evening.
Results

Pearl Izumi Tour Series Round Seven, Redditch

Individual result

1. Tom Scully (Raleigh)
2. Liam Holohan (Madison-Genesis)
3. Chris Opie (UK Youth)
4. Kristian House (Rapha-Condor-JLT)
5. Mike Northey (Node4-Giordana)
6. Dale Appelby (Metaltek-Knights of Old)
7. Ben Stockdale (Metaltek-Knights of Old)
8. Dave McGowan (Metaltek-Knights of Old)
9. Dan Barry (Node-Giordana)
10. Roman Van Uden (Node4-Giordana)
Team result

1. Metaltek-Knights of Old
2. Raleigh
3. Node4-Giordana
4. UK Youth
5. Madison-Genesis
6. Rapha-Condor-JLT
7. MG-Maxifuel
8. Hope Factory Racing
9. Spin-Rotor-Primal-C Originals
10. IG Sigma Sport
Team standings after Round Seven

1. UK Youth 63pts
2. Raleigh 58pts
3. Madison-Genesis 54pts
4. Rapha-Condor-JLT 49pts
5. Node4-Giordana 44pts
6. Metaltek-Knights of Old 40pts
7. MG-Maxifuel 31pts
8. Hope Factory Racing 18pts
9. IG Sigma Sport 18pts
10. Spin-Rotor-Primal-C Originals 10pts
Costa Express Fastest Lap
Tom Scully (Raleigh)
IG Sprints winner Round Seven
Tom Scully (Raleigh)
IG Sprints standings after Round Seven

1. Tom Scully (Raleigh) 50pts
2. Kristian House (Rapha-Condor-JLT) 50pts
3. Alex Blain (Raleigh) 37pts
Johnson Health Tech GP Series Round Three, Redditch

Individual result

1. Hannah Barnes (MG-Maxifuel)
2. Laura Massey (Abergavenny RC)
3. Charline Joiner (MG-Maxifuel)
4. Adela Carter (Hope Factory Racing)
5. Hannah Walker (Matrix Fitness)
6. Karla Boddy (MG-Maxifuel)
7. Gabby Day (Matrix Fitness)
8. Jessie Walker (Matrix Fitness)
9. Clemence Copie (MuleBar Girl)
10. Annie Simpson (Hope Factory Racing
Team result
1. MG-Maxifuel
Combativity prize, Round Three
Adela Carter (Hope Factory Racing)
Sprints winner, Round Three
Adela Carter (Hope Factory Racing)
Individual standings after Round Three

1. Hannah Barnes (MG-Maxifuel) 59pts
2. Louise Mahe (MuleBar Girl) 45pts
3. Gabby Day (Matrix Fitness) 45pts
4. Natalie Creswick (MuleBar Girl) 44pts
5. Karla Boddy (MG-Maxifuel) 39pts
Team standings after Round Three

1. MG-Maxifuel 138pts
2. Matrix-Fitness 128pts
3. MuleBar Girl 116pts
Sprint standings after Round Three

1. Hannah Barnes (MG-Maxifuel) 27pts
2. Louise Mahe (MuleBar Girl) 13pts
3. Adela Carter (Hope Factory Racing) 10pts
Hannah Barnes wins the Johnson Health Tech GP
Tom Scully solo
Tom Scully takes the win
Related links
Tour Series 2013 Redditch photo gallery by Andy Jones