Mike Cuming: how the East was won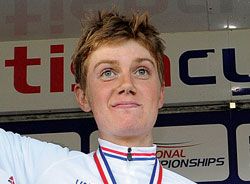 Mike Cuming, the 2012 Under-23 road race champion, was, to be fair, no stranger to the Tour of Korea, in as much as he had ridden it in 2012, finishing 40th overall.
Last year the race had essentially been a sprinters affair, but this year's route was more suited to Cuming's abilities. Not that the modest (always too modest) Cheshire rider flew there with high ambitions.
"It's not what you expect , the cities are busy but the countryside is deserted, but really green and lush, really beautiful actually."
Cuming, who really, really needs to invest a big dose of self-belief, went to Korea with typically modest ambitions.
"I didn't do that well in 2012, it wasn't for me, with big groups of 60 or 70 guys who could get over the climbs, but this year it worked out. I checked the profile and we thought me and Rich (Handley) could maybe get a top 10 on GC or go for a stage win, we went there thinking we were good enough to do something in the race, but not thinking I could win it. To be honest I do go to any race thinking I could win in it!" laughed Cuming.
In fact Cuming hadn't actually won a race since the Under-23 national road race almost a year previously. "I pick 'em! But you might as well win a good one."
The win came at a good time for Cuming who hadn't managed to build on his Under-23 title win. Even though he was training, eating, doing everything, the performances weren't happening.
"I was starting to think that was it, it just wasn't clicking. My family supported me of course - because it's part of their contract isn't it? And my coach Ken Matheson was always confident and good for morale and John (Herety) has been great, he always had faith in me that I could come up with a result. He's like a one man good cop-bad cop, good at coaxing and good at shouting when you need it."
Cuming's season started to turn at the An Post Ras Tour of Ireland, where he led the mountains classification (as well as the coveted long sock classement) until he got ill midway through. "I suffered through the last bit, but Rich was up there on GC so I didn't want to pull out and we rode hard but I was just pleased that I was part of the racing for a change. I was disappointed to lose the mountains jersey but happy that I felt like I was racing again." All of which meant that Cuming went to Korea with a little more of that precious racer commodity - confidence - and hoping to keep his progress rolling.
And it worked. "I got fourth on the first stage which was a pretty hilly, tough stage." In fact, given his season thus far, Cuming reckoned that would do. "When I looked around at the guys who were up there on that stage, I thought, OK, I was chuffed, I'll take that! Job done, I'm happy with that!" says Cuming, but, as it transpired, that was only the start. "Up to that point in the season I hadn't been able to crack into the top five in any race, so I was pleased."
Then there was a mountain top finish and I managed to scrape seventh in that, it was a near 10km climb, which wasn't too steep but flowing, still a little ring job and I got up that OK. At that point I was eighth on GC, so I thought, OK, if I can hold on to a top 10 that'd be sweet. And I was still three minutes down on the race leader at that point, because he had snuck into a break on another stage."
"Next day a bunch finish, then the 25km team time trial and we really, I think we were proud of ourselves, we had lost Luke Grivell-Mellor who had flown home sick, so we were down to five guys, Aaron Buggle probably will admit he wasn't at his best on this hilly TT course and we were down to four guys but we still came third on the stage. Hugh Carthy, one of the young lads (Cuming actually considers himself "one of the old man now, I'm done, washed up!") really rode well for a first year senior." Considering they were up against MTN Qhubeka, Team Novo Nordisk, Champion System and Italian Nippo De Rosa Racing, that was a great collective effort.
That collective performance moved Cuming up to fifth, but still three minutes down and he was ready to stick with fifth on GC. "Then I took the jersey the next day, on stage six. It was raining on the next stage which started up a first cat 11km climb and there were five guys in front and I got dropped but Rich came back for me, we got back on on the descent, got away in the valley and it stayed away.
"The yellow jersey was isolated behind and we got about four minutes - and I was three and a bit down. So (team manager) Tom Southam went into full directeur sportif mode, shouting 'You're in yellow! You're in yellow! Ride! Ride!' and from that point it was simple - I just had to ride as hard as I could, not worry about a stage win or tactics or anything. I made it into the jersey by nine seconds." Which was eight seconds more than he needed. "Yeah, I could have gone easier really," smiled Cuming.
On the final day, protecting Cuming's slender lead, team mate Handley took care of business. "The guy in second was a good climber and kept attacking us, but my man Rich Handley did the ride of his life, he just woke up in the morning put on his skinsuit and aero helmet and rode in the front all day! 50kph into the climbs, hard up the climbs, hard down the climbs, it was brilliant, pretty special to see.
"To be honest I wouldn't have won it without Rich, he was phenomenal. Winning was pretty special, but when I crossed the line it was more like relief than anything else, I was thinking, 'Wow, I'm glad that's over, that was pretty stressful! I didn't realise how stressful it would be with all the podium protocol stuff and the anti-doping. I was expecting sunshine, rainbows and podium girls after I crossed the line, but...no.'"
Unsurprisingly, a win for Cuming in a UCI 2.2 race like this could open some doors for him. Rapha Condor JLT is a well-run Continental team with a reputation for developing young talent, but that young talent (Cuming) has to move up to the next Pro Continental team level. And the fact that Cuming was racing (and beating) riders from those teams in Korea should stand him in good stead as he searches for a berth for 2014. Between Cuming's CV allied to the contacts that manager John Herety and experienced rider Kristian House have, you would hope that Cuming can use Korea as a calling card to... Champion System?
Thank you for reading 10 articles this month* Join now for unlimited access
Enjoy your first month for just £1 / $1 / €1
*Read 5 free articles per month without a subscription
Join now for unlimited access
Try first month for just £1 / $1 / €1