MPs from all parties support action to Get Britain Cycling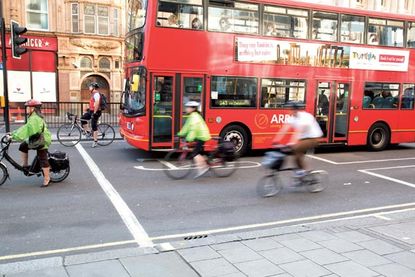 Up to 100 MPs attended last night's Commons debate on cycling, with a unanimous cross-party vote supporting the motion to Get Britain Cycling.
The motion supports the Get Britain Cycling report recommending government targets to increase cycling from 2% of all trips to 10% by 2025 and 25% by 2050, with an annual cycle action plan and sustained cycle funding.
Meanwhile, around 5,000 cyclists gathered outside Parliament demanding cycle infrastructure plans are implemented quickly in London and across the UK, in the London Cycling Campaign's Space for Cycling protest.
Jason Torrance, Sustrans Policy Director, said: "Cycling bridged the political divide tonight, with MPs from all parties supporting renewed action from government as they spoke passionately about the need to get more Britons on their bikes.
"But words without action will do little to make our roads safer, improve the health of our population or give the economy its much-needed boost."
Torrance told Cycling Weekly there is still no requirement for action following the vote, however, adding: "It is far from clear what will actually happen now. I think what it does indicate is that the cycling vote is really coming up the agenda."
The four hour debate saw cycling minister Norman Baker announce the Association of Chief Police Officers (ACPO) will re-write their guidance on enforcement of 20mph zones, which was welcomed by campaigners.
Many MPs were there as a direct result of requests by their constituents, each bringing examples of roads that put cyclists at risk, from high traffic speeds to dangerous junctions. MPs recited scores of reasons why cycling is needed, from transport poverty to health and economic reasons, including congestion.
Among enthusiastic pro-cycling words from MPs, there was also criticism of a lack of consensus and sustained funding from government.
Chris Boardman, British Cycling's Policy Advisor, said: "When we have a Highways Agency's budget of £15 billion for five years with £159 million for cycling spread over two years with no commitment to continuous funding, it's clear that's there's still more work to do so that actions match words."
Labour's shadow secretary of state, Maria Eagle MP, announced an impressive eight point cycling plan, including long-term cycle funding, cycle safety assessments in new transport schemes, justice for cyclist deaths and injuries, and extending Wales' successful active travel bill to England. She calling on cross-party support for these measures.
At his closing remarks the All Party Parliamentary Group's (APPCG) chair, Dr Julian Huppert MP, said the Get Britain Cycling report will be adapted it as part of the Lib Dem manifesto. Campaigners now say this puts pressure on the Conservative party to come up with something as ambitious.
Related links
Government responds to Get Britain Cycling report
Government cycle funding: How will it be spent?
Remove barriers to Get Britain Cycling, say MPs in new report
What is 'Get Britain Cycling'?
Thank you for reading 20 articles this month* Join now for unlimited access
Enjoy your first month for just £1 / $1 / €1
*Read 5 free articles per month without a subscription
Join now for unlimited access
Try first month for just £1 / $1 / €1