New cycle safety system for HGVs being trialled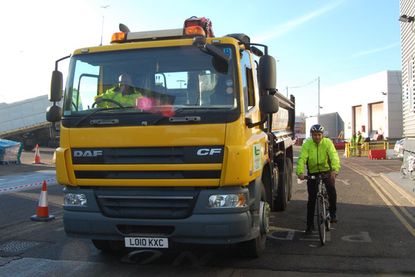 Ealing Council in West London today launched a new cyclist detection system trial for lorries, which could help reduce blind spot danger to cyclists and pedestrians.
Cycle Safety Shield features Mobileye technology, which can differentiate between a person and a passing bollard or railing up to 30m away, helping avoid the false alarms which dogged earlier technology.
HGVs are disproportionately represented in cyclist fatalities, despite being a minority of road traffic, with all of the recent spate of London cycling fatalities involving HGVs, buses or coaches.
Ealing Councillor Bassam Mahfouz said: "With some of the other technology it goes off every time there is something going past and you end up ignoring it if is too regular, so what is important about this is that it tells you when there is a cyclist or pedestrian approaching; it alerts the driver and doesn't go off all the time."
The system, developed by Safety Shield Systems, features a 360 degree bird's eye view of the lorry, similar to systems used by Volvo and Nissan. An audible alarm is also triggered if the driver accelerates or brakes heavily, or crosses a white line at over 30mph without indicating. It can also read traffic signs and warn if the driver is speeding. Via black boxes, information on driver behaviour is stored for up to a month.
A voice recording also tells cyclists when the vehicle is indicating to turn left, along with a flashing sign on the vehicle's side.
The company argues that the system "trains the driver that multiple cyclists and pedestrians can be surrounding their vehicle especially in city environments".
Safety Shield Systems' Jon Guest said in the company's US trial there was a 60 per cent improvement in driver behaviour and around a 20 per cent increase in fuel efficiency following installation of the technology.
He said: "With the 360-degree camera you can see fully all the way around the vehicle. If someone walks out in front the collision avoidance system warns the driver, giving him time to stop.
"This is tried and tested technology developed over 15 years. With the recordings, at any time a few different people will be able to look at how drivers using the technology are improving," he said.
The cost of this one-off installation, at £4,000, was higher than the predicted cost which will vary from £800 to £2,000 from the basic collision avoidance alarm system, to the full monitor and camera system.
This trial forms part of Ealing borough council's work improving cycle safety, which also includes on-bike lorry driver training.
Construction firm Murrill is trialling the system in its lorry. Murrill's HGV driver at the demonstration was positive about the new technology. He said: "I personally think it is really good and I like that it can see the blind spot. If a small child or a shorter person walks out in front of me I couldn't see them [before], but with this I know they are there."
CTC's Roger Geffen said at a recent discussion on lorry safety that where larger companies are more willing to invest in safety measures, smaller haulage companies can be reluctant to pay for things like driver training and cameras due to narrow profit margins. Safety Shield Systems hope the fuel efficiency argument will persuade some of the latter companies.
Nonetheless, concerns remain over detection technology, whether it is failsafe, and whether a driver should rely on it completely. Results of recent trials of cycle detection systems, including Cycle Safety Shield, in the Transport Research Laboratory are due to be published.
Road safety society RoSPA's head of road safety, Kevin Clinton, said: "With technologies of this type, the key thing is to trial them to make sure they work reliably and that they do not overload the driver with too many things to check and too many alerts to interpret. Also, there is a need to train drivers in the use of the technology so they can use it correctly without over relying on it."
Thank you for reading 10 articles this month* Join now for unlimited access
Enjoy your first month for just £1 / $1 / €1
*Read 5 free articles per month without a subscription
Join now for unlimited access
Try first month for just £1 / $1 / €1