New road surfaces in Surrey cause problems for cyclists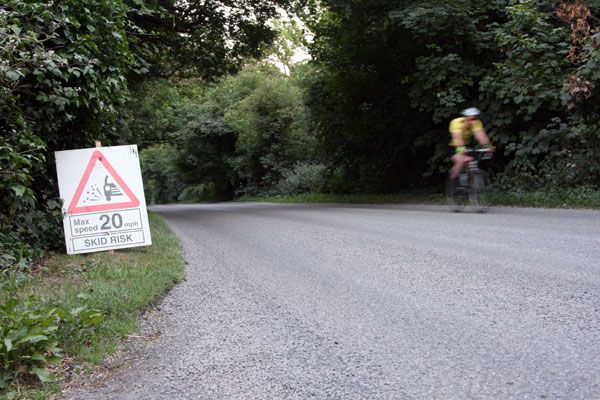 Several stretches of roads due to be used by the RideLondon-Surrey 100 sportive and the Classic road race on August 4 have been resurfaced using the controversial 'surface dressing' method by Surrey County Council.
Surface dressing uses a layer of bitumen with chippings added on top and rollered in, causing an accumulation of gravel at junctions, and at the side and middle of the carriageway. The gravel can cause cyclists and other road users to slip and lose control, as well as increasing rolling resistance.
Areas of treated road include those around (but not including) Box Hill, Leith Hill and Ranmore Common as well as Dorking.
Cycling Weekly has been contacted by several cyclists who have used the roads since they were surface dressed around two weeks ago concerned that the 20,000 cyclists using the roads for the RideLondon event would be put at risk. The UCI 1.1-ranked road race which takes place on the same day would also put the like of Peter Sagan (Cannondale) and Ben Swift (Sky) at risk if the loose gravel is not dealt with.
This correspondent witnessed the aftermath of a motor scooter rider who had fallen foul of an accumulation of gravel on the junction between the recently resurfaced Headley Common Road and Box Hill Road on Sunday morning. He had suffered nasty abrasions, a possible broken arm and his scooter was a wreck.
We contacted both the organiser of the RideLondon-Surrey event and Surrey County Council, who assured us that the roads would be clear in time for the event.
"Surrey County Council is undertaking its regular summer carriageway surface dressing programme across the road network, some of which coincides with the Prudential RideLondon-Surrey 100 route," said the RideLondon organiser in a statement.
"This surface dressing usually takes a few days to settle and the roads in question will be swept in the lead up to the event to ensure the route is in a suitable condition, by removing the excess chippings and gravel - especially on corners. Other parts of the Prudential RideLondon-Surrey route are being repaired as part of Surrey County Council's wider ongoing Highway Maintenance programme."
Surrey CC were very concerned when we contacted them and informed them that several cyclists had already been involved in accidents relating to the loose surface on the roads.
A Surrey CC spokesman said: "We are spending £100million over the next five years overhauling the worst of Surrey's roads. In this case the roads in question have not been resurfaced but surface dressed, a preventative treatment mainly used where the road itself is structurally sound. It is less costly and can prolong the life of the existing surface for about eight to 10 years, preventing water from getting in and reducing the likelihood of potholes.
"There is some residual stone left over from the treatment, and we generally sweep a few times after treatment which removes most of the loose chippings. This location [Headley Common Road - Ed.] is on our list for another sweep this week."
We asked Cycling Weekly readers via Twitter for their thoughts on the surface dressing of roads throughout Britain, and they were - unsurprisingly - far less enthusiastic about the method's benefits.
@LukeBonnett
"Dangerous, annoying and prone to causing chips not only on bikes but also cars. What's to like?"
@SimonBurrell1
"Lethal - rode through several road dressed with chippings yesterday and could have tanked at any point :("
Andrew Cawthra - @ATEAMW6
"They slowly wear away at your tyres, average speed and sense of humour!"
Kevin Dace - @Dace71
"Councils do it because its cheap and stuff the consequences. False economy many roads round here done last yr r worse than b4"
@MatSeadonYoung
"Broke my last pair of oakleys riding on that rubbish. Kicked up by a car."
George Barker - @CheepRemarks
"Seals cracks preventing deterioration; doesn't remove lumps/hollows; makes them harder to see. Rds therefore more dangerous."
@DavidSapsford
"They ruin bikes and cause punctures. Some people even come off the chippings are so deep. THEY ALWAYS RUIN A GOOD RIDE!!!!!!!"
See this week's Cycling Weekly magazine (July 25 2013) for a news feature on councils' use of surface dressing on roads and the risks that it poses to cyclists