Oli Beckingsale edges closer to National Trophy leader Paul Oldham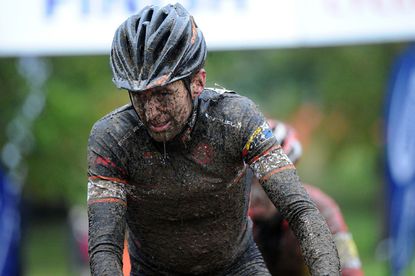 The battle for the National Trophy Series honours took another thrilling twist at Temple Park in South Shields on Sunday, with Oli Beckingsale (Endura MTB Racing) being the best British finisher and closing the gap to series leader Paul Oldham (Hope Factory Racing).
Lancashire-based Oldham finished just behind Beckingsale in fourth in the fourth round of the series, and now leads by just two points from his Bristol rival.
And in the Under-23 category, former leader Steve James (Hargroves Cycles) relinquished the green jersey to Cestria CC rival Adam Martin after crashing twice and pulling out early in the race with a knee injury.
Martin moves up to third overall on the back of his storming performance at Temple Park, where he was eighth across the line and third best Under-23.
Belgian Floris de Tier (Baboco CT) took the win just three seconds ahead of countryman Bart Hoffman, while Beckingsale was inches behind and completed the podium and Oldham took fourth, five seconds further off the pace.
"I'm happy with the podium but disappointed not to win," said ambitious Beckingsale. "I had decent legs today but threw it away with an awful start. Paul had good legs early on and he was forcing it, and I didn't close the gap until too late.
"I'm a bit rusty with the cross so I was losing time on the dismount and the bike change. But I'm enjoying it and improving and by the time we get to January I will be faster again.
"I thought I had it in the sprint. Another foot and I would've had it. It was good fun and it's great with the Belgian guys being here. I'm really looking forward to the nationals. For the first time in my life I may put the beer away at New Year and go to bed!"
Meanwhile, experienced Isla Bikes rider Louise Robinson, the 47-year-old from Ludlow, secured her fourth consecutive win in the National Trophy Series this season, crossing the line 17 seconds ahead of Scottish rider Eileen Roe (Team Ibis), while Adela Carter (Hope Factory Racing) consolidated second spot overall with third on the day, just two seconds behind Roe.
Twenty four hours earlier Paul Oldham had warmed up for the National Trophy with a winning performance in round 11 of the CXNE Rat Race Series at the same venue, although on a largely different course.
And in Wales, Jonathan Pugh (CycleTec) was almost a minute ahead of his nearest rival in the tenth round of the Welsh League near Talgarth.
Cardiff JIF's Ian Jeremiah took second, while his team-mate and usual Welsh League frontrunner Adam King was away competing in the National Trophy.
Thank you for reading 10 articles this month* Join now for unlimited access
Enjoy your first month for just £1 / $1 / €1
*Read 5 free articles per month without a subscription
Join now for unlimited access
Try first month for just £1 / $1 / €1
Snowdon Sports is a long-established independent sports news agency, which supplies editorial to a range of media outlets - such as Cycling Weekly - as well as sports governing bodies. Snowdon Sports often covers results at Cycling Time Trials events in the UK and has long been a source of information and imagery to Cycling Weekly.