Dominos oven-equipped pizza delivery e-bike is 2023's hottest new model
With pizza-cosseting suspension and a 68deg pizza oven, this fancy steed has all the bike tech you never thought of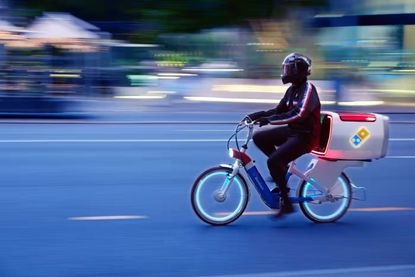 (Image credit: Domino's)
If you thought your new bike had all mod cons, hold your horses a moment. Is it, for example, optimised for freshness and cheese stretch? And more to the point, does it have an oven to keep your pizza piping hot at 68deg?
If you're missing such vital accoutrements, it's fair to say that the Domino's DXB has at least one up on whatever might be gleaming in your garage.
The pizza company's new e-bike is being rolled out across all of its 12 market territories and as well as an oven, boasts suspension keep your pizza cosseted all the way to your front door. After all, as Domino's points out, a pizza on its way to being delivered will experience up to 10.2 G on the way – more than a fighter pilot – and needs all the help it can get.
The oven, or "temperature-controlled pizza pod" as those in the know refer to it, works using fan-forced ceramic heating coupled with a new ventilated thermal bag to ensure any excess moisture evaporates – no more soggy pizzas is the promise.
Decked out in a natty red, white and blue Domino's colourway, the step-through machine also features reflective rims for safety and hub brakes. Some publicity shots also show a cage protruding from the rear hub and out of the back of the bike. That, we are going to presume, is to counteract the oven's rearward weight, which looks like it could make the DXB one wheelie-happy bike.
Domino's calls the DXB "the next best thing to having a Dominos pizza oven in your own home". The brightly lit oven surely doubles as what must be the most visible rear cycle light ever put on a bike. It also looks like it could have come straight out of the Starship Enterprise and indeed Domino's riffs on the Star Trek theme, saying: "Domino's is boldly going where no pizza company has gone before," it says, "launching a revolutionary new e-bike concept destined to change the food delivery universe forever."
Don't order pizza today expecting one of these to turn up, they're being rolled out slowly for the moment.
Thank you for reading 20 articles this month* Join now for unlimited access
Enjoy your first month for just £1 / $1 / €1
*Read 5 free articles per month without a subscription
Join now for unlimited access
Try first month for just £1 / $1 / €1