Outdoor Provisions launch environmentally friendly natural energy bars
With compostable wrappers, 100% recyclable packaging and flavours inspired by the UK National Parks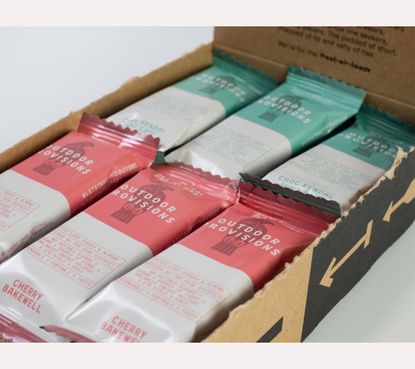 (Image credit: Outdoor Provisions)
With compostable wrappers, 100% recyclable packaging and flavours inspired by the UK National Parks.
Inspired by a love of outdoors adventure Outdoor Provisions energy bars are the brain child of friends Luke Douglas and Christian Smith, who, after a particularly enduring mountain bike racing season, whereby a significant amount of energy bars were consumed, decided that they could do much better themselves.
>>> Energy bars for cycling: eight favourite flavours
Christian, who has a background in supply chain and product development in food companies, and Luke, who is a designer/art director, working mostly for outdoors focused brands met through the Manchester cycling scene and are both self confessed 'fresh-air-heads'.
"We started mixing up prototypes in my kitchen in Salford" says Christian. "I had a solid idea of what the base or chassis of the product should be, but it took a moment of inspiration and a prod from my better half to come with the National Park flavour portfolio we have now".
Each bar is vegan, uses organic ingredients where possible, contains no refined sugars and aims to deliver a balanced release of energy. Cherry Bakewell (Peak District National Park) and Choc Kendal Mint Cake (Lake District) are available to buy now, with Parkin (Yorkshire Dales) and Bara Brith (Snowdonia) following on shortly.
"I've spent a lot of time outside and eaten a lot of energy bars that have been pretty terrible. Our aim is to change that." says Luke. "The Outdoor Provision energy bars have been designed to be easy to digest, with a texture suited to eating during activity and are entirely made in the UK, using recyclable packaging and compostable adhesives".
"It was very important right from the start that we developed the brand as ethically as possible" continues Christian. "We established Outdoor Provisions on the proviso that it would allow us to do our bit towards preserving the outdoors, so we intend to use profits to give back to organisations and initiatives that protect and enable it" .
The 'give back' element is something the brand agreed as a must from the start. "Once we're established, we intend to use a percentage of profits to support people and organisations that are doing good things to protect and enable the outdoors" Says Luke. "So that might be supporting trail maintenance, to getting kids outdoors, wildlife conservation to tree replanting. It's a work in progress but we're keen to see where it goes".
Individual bars can be brought for £1.90 from independent retailers such as, Business As Usual in Bristol, Peak district National Park Visitor centres, Alpkit stores and Coed y Brenin visitor centre, or £1.50 if bought in 18 boxes direct from www.outdoorprovisions.co.uk, with 30% off your first order.
Thank you for reading 5 articles this month* Join now for unlimited access
Enjoy your first month for just £1 / $1 / €1
*Read 5 free articles per month without a subscription
Join now for unlimited access
Try first month for just £1 / $1 / €1