'Overshadowed with fear': how violent bike muggings have changed the face of city cycling
Survey reveals epidemic of anxiety in the face of recent attacks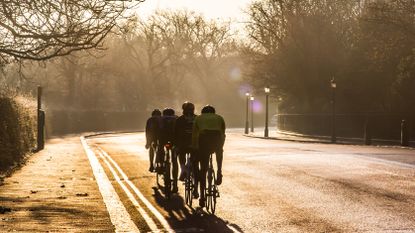 (Image credit: Getty Images)
City cyclists are riding less or changing their habits following a spate of incidents where people have been mugged for their bikes, according to a new survey carried out by Regents Park Cyclists (RPC) in London.
In the past three months, members of the city based group Regent's Park Rouleurs have been targeted on at least three separate occasions, in one case, the rider "crashed, blacked out and woke up in hospital".
Earlier this year a 17-year-old boy was sentenced to 12 months in youth custody for playing a part in the violent bike mugging of pro rider Alex Richardson in Richmond Park. In June we also reported how one robbery in East London left a rider with injuries including a broken jaw and missing teeth.
A Freedom of Information (FOI) request showed that in the last 12 months, there were 768 incidents of bicycle 'robbery' in London - the MET classes robbery as 'theft with the use of force or a threat of force'.
This is not a London-only issue: this year there have been reports of similar incidents in Manchester, Birmingham and Bristol.
Survey participants were asked to share information on how reports of recent bike muggings had affected them (if at all), and garnered 1,300 responses on what is clearly an emotive issue. The majority (80.7%) of those who replied rode for London cycling clubs, with 96% saying they had heard about violent 'bike muggings' in the past two months.
The responses to the RPC survey almost universally told a tale of fear, anxiety, riding habits that had been altered in order to feel safer, and even of switching to cheaper bikes that felt like less of a target. Nearly 91% (90.9) said they felt less safe.
Many said they had been left always looking over their shoulders, or feeling particularly fearful around mopeds or even those walking towards them on cycle paths.
"My main leisure activity is now overshadowed with fear," said one, adding: "I've taken out bike insurance this month as a result and will only cycle if I know I can meet up with a big group. I have bought air tags and concealed them in my bike frames, I have also bought rape alarms and will work out a way to attach to my handlebars."
Another said they had simply resorted to riding on the indoor trainer: "This is very isolating, and has a detrimental impact on my mental health and emotional wellbeing," they said.
Women had been particularly affected by the issue, the survey suggested, with many female respondents saying they were no longer happy riding alone.
One respondent said they had moved to the UK to get away from violent crime in their home country, but pointed out that the police there had at least been on the case: "Never in my wildest nightmares did I think that this level of criminal violence would take place in the UK. Equally distressing is the tardy and non response of the authorities to this scourge."
One noted: "As a woman, cycling around London always felt like a safer way to get around by myself. It feels helpless to have this mode of transport and sport limited and potentially taken away."
Of the few who didn't report feeling anxious or changing their habits, one respondent said: "[I] have a s**t bike but am concerned for those with good bikes."
Another said they would not consider riding across London on anything but a "beater bike".
A spokesperson for the Met Police told the BBC : "We're doing all that we can to prevent robberies and thefts targeted at cyclists as we understand it is a growing concern for some Londoners."
They added: "Through our new cycle crime reduction partnership we are working to make it harder to sell stolen bikes through the second-hand market."
The spokesperson also added that the majority of yearly bike journeys made in the city passed without incident, and that they were focusing on 'hotspot' locations where "victims may be more at risk".
Thank you for reading 20 articles this month* Join now for unlimited access
Enjoy your first month for just £1 / $1 / €1
*Read 5 free articles per month without a subscription
Join now for unlimited access
Try first month for just £1 / $1 / €1