Peiper calls the tune at BMC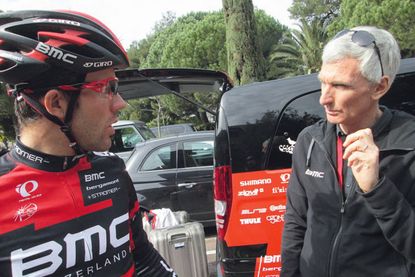 Allan Peiper, former rider, former directeur sportif at Garmin and High Road, switched teams in the close season to work with BMC. To go from the ostensibly happy-clappy freewheeling Garmin squad to the rather more troubled BMC team seemed like a weird move, but the 51 year old had good reasons.
"I wasn't really able to do the things that I wanted to do at Garmin, by which I mean that my role there meant that I was on the road, in the car, as a DS for 180 days a year," Peiper explains. "When you get back from races, you're knackered and need to start preparing for the next race, which didn't give me any time to investigate stuff and work on areas that I think are important, That's something I hope that I'll be able to do more of at BMC."
At a time when teams are looking into every detail, leaving no pebble, far less medium-sized stone unturned, Peiper was keen to look into the latest developments in training, nutrition, equipment, wind tunnel testing, "everything, down to clothing," and make sure that these details were being fed into the team's racing programme.
Growing pains
While BMC is strongly rumoured to have one of the biggest budgets in the sport, from Peiper's perspective, it was a team that had grown very quickly without necessarily having the benefit of many years of experience.
"If you look at newer teams like Orica and Sky, they were both able to draw on 10 or 20 years of national federation knowledge and structures which informed the way the teams were set up. In BMC's case, it started off as a small team and picked up Cadel Evans at the peak of his form, it increased its sponsorship budget and grew its roster and ambitions, but I'm not sure that it had the same focus or background that a big team needs. Like I say, I reckon it grew big too quickly without having the structures in place to cope with that rapid growth."
Which is rather where Peiper comes in. Or rather, what Peiper has been advocating since he joined the team at the start of the 2013 season. "We made a lot of changes in the winter and we're in the first phase of transition," continues the Australian.
"We set up a coaching performance plan which is starting to get results but, more than that I think a team of this size and ambition needs to have a clear vision of what it wants to achieve, it needs to set out goals, work out what it wants to do, then you need to work out what structures and programmes are required to make that possible and then you need to recruit a roster of riders who will enable you to meet those goals.
"But - but - everyone on the team needs to be clear on what the goals are, they need to buy into it and understand what the big picture is. If you communicate the goals to everyone they should be grown up enough to realise that, for example, the team for any given race will be selected on the basis of those being the riders that we think are best suited to doing the job. They need to have confidence that the team is still thinking about them, still working with them to get the best out of them in other races."
Shake-up
The days of Peiper's old Panasonic boss Peter Post are gone. "Yeah, it's not 1985 any more and you can't run a team as though it was still 1985. With Post it was 'shape up or ship out' which isn't the ideal way to get the best out of most people. Having said that, I still think a lot about those days with Post, especially recently - and there was a lot that happened back then that's still relevant."
In an ideal world, Peiper would like to still be at races, staying for a few days to talk to riders and staff to get feedback and see the team in action, gathering ideas from everyone as to how to get the best out of the team and everything that revolves around it.
"I was talking to Tejay [Van Garderen] and Brent [Bookwalter] at the Tour and they asked me if I missed being in the car and DS-ing. I said sort of, but the thing I missed most was actually seeing the riders working and being with all the guys. You pick up a lot from being at a race, information that can be used to improve stuff. It's really important that you go to races - let the DS work the race of course - and just be there to talk to everyone and listen."
But, as with any organisation, change is rarely welcomed with open arms or unanimous approval. "In general it's fair to say that change isn't always easy to make happen, there's usually a bit of inertia in organisations. But once you've overcome the inertia, once the thing is moving, then it gets much easier," observes Peiper.
The exact structure of the backroom team is still work in progress, but Peiper seems quietly confident that everyone is buying in to the need for a shake-up at the Swiss team. With a string of wins in smaller races in the second half of the season - Mathias Frank and Thor Hushovd in the Tour of Austria, Greg Van Avermaet and Daniel Oss in Wallonie and Utah, Hushovd and Taylor Phinney in Poland - that process of transition, the first phase, as Peiper puts it, looks to be on the right road. Inertia has been overcome and BMC's momentum is building.
Renewed optimism
"In Poland you could tell the team was happy and motivated," Peiper says. "We got a hard time in the media during the Tour and it affects morale, but the wins in Poland and Austria and Belgium are changing that. I think it's too soon to say that the changes we're talking about have been responsible for that but a happy team and motivated riders are a good sign.
"When Thor won his second stage, you saw guys staying with him on the climbs to help and when he won the sprint the other day you had guys like [Marco] Pinotti riding on the front and working in the run-in, guys you wouldn't expect to see at the front riding on a stage like that. It's a sign of a happy team and that's what we need.
"[Team owner] Andy Rihs called Thor after his second stage to congratulate him and the team, I think Andy is a lot more optimistic now than maybe he was during the Tour."
Feelgood factor
Phinney, the young American who signed a three-year contract extension with the team after the Eneco Tour, explains the mindset of the BMC riders who had sat out the Tour and watched it on television: "I think there were two ways it could have gone after the Tour. It's the biggest race of the year and we didn't do very well, so we could have just said, 'OK, let's just forget the rest of the year.' But there are 28 guys on the team and there were only nine riders on the Tour and I think we were watching it on TV and thinking, 'You know what, it's time for us to step up.'
"We've always had a great team atmosphere, a kind of worry-free team and one that will have wine with dinner - the antithesis of Sky, who are regimented and serious. That might have hindered us a bit but if you can balance that out and get the right vibe inside the team then, with the right people and the right level of performance, it'll work."
The post-Tour roll carried on in the US Pro Challenge, aka the Tour of Colorado, where Tejay Van Garderen ran out a convincing winner, taking the time trial stage victory and enjoying the luxury of his team-mate Mathias Frank in second place on GC. His win "went a long way to making up for the disappointment of the Tour," says Van Garderen, adding, "and we had a great time doing
it [winning]. Everyone's just laughing and getting along. We came here [Colorado] to kick ass and have fun and that's what we did."
Surely that's further evidence of that crucial 'feelgood' attitude operating inside the team.
But, for all the changes to structure, attitude and staff, there won't be any big changes of riding personnel. "No, there are no 'wow' signings," laughs Peiper. "That's not what we need just now. We need consolidation; we've got good riders already. If we signed a 'wow' rider it'd be like, 'Oh no, here they go again, signing stars,' and we don't need any more, that's for sure."
This article originally appeared in the September 5 2013 issue of Cycling Weekly magazine
Thank you for reading 20 articles this month* Join now for unlimited access
Enjoy your first month for just £1 / $1 / €1
*Read 5 free articles per month without a subscription
Join now for unlimited access
Try first month for just £1 / $1 / €1