Pendleton relaxed in build-up to Olympics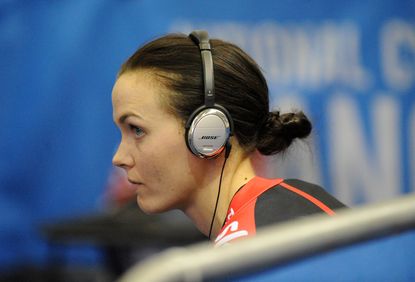 >>>
Defending Olympic sprint champion Victoria Pendleton is feeling more relaxed than ever as she kicks off her campaign to win three gold medals at the Olympic Games in London this August.
With just one day to go until the London Track World Cup, Pendleton told journalists that her focus on enjoying the last three events that she will race as a track sprinter has brought her a renewed positive attitude for racing.
"It wasn't until it turned 2012 that it kind of hit me," she said. "I suddenly thought I don't want to wish this year away full of dread and anxiety and despair. I want to enjoy it because it will be the last time I do it."
Despite this, she admitted she won't be sad to say goodbye to sprint racing when the curtain falls on her career after the Games.
"I wont be missing that [track sprinting], believe me! It's the worst event isn't it!? You are at the track all day so mainly doing nothing so you can't escape the environment and its just up and down up and down," she explains.
"I know the feeling at the end of it will be good so it's like doing a set of intervals...you know it's going to suck.
"I am not going to miss racing full stop," she added. "It's really hard to explain...I have really enjoyed it...but there isn't anyone who has beaten me and I have never gone back and beaten them so I kind of feel that I have ticked a lot of the boxes already."
Her biggest challenge at the Olympics is expected to come from her seasoned Australian rival, Anna Meares, who will also be racing in London this weekend.
With the Olympic schedule changed from Beijing to include women's team sprint and women's keirin, their rivalry will no longer be contained to just the sprint.
Pendleton will compete in each of the sprint events at the World Cup, racing with Jess Varnish in the team sprint. She is likely to come face to face with Meares in all three, but for the GB athletes, Pendleton included, the event will be primarily about gaining experience on the Olympic velodrome.
"It's rubbish going in to a competition and not being in your peak form and knowing the whole world will be watching what you are doing...but you have to, as an athlete, kind of deal with that because there is a much bigger picture this year."
See February 23 Cycling Weekly for full coverage of the London Track World Cup
Related links
LIVE: London Track World Cup 2012
Pendleton aiming for triple gold at 2012 Olympics
Pendleton expects to retire after 2012 Olympics
Track World Cup GB team pursuit line-ups finalised
Thank you for reading 10 articles this month* Join now for unlimited access
Enjoy your first month for just £1 / $1 / €1
*Read 5 free articles per month without a subscription
Join now for unlimited access
Try first month for just £1 / $1 / €1
Richard Abraham is an award-winning writer, based in New Zealand. He has reported from major sporting events including the Tour de France and Olympic Games, and is also a part-time travel guide who has delivered luxury cycle tours and events across Europe. In 2019 he was awarded Writer of the Year at the PPA Awards.