Pendleton spearheads Hovis 'eat healthy' campaign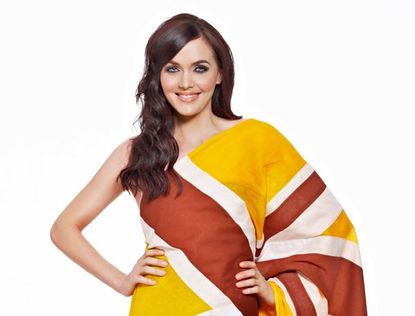 Olympic track champion Victoria Pendleton is spearheading a campaign by bakey Hovis to eat healthily in 2012.
The sprint champ is fronting Hovis's campaign to try and stop people, in particular women, taking up 'fad diets' and over-snacking in the New Year.
"It's worrying to think that women put pressure on themselves to lose weight quickly and then suffer emotional repercussions if they give up or don't see the desired results," said Pendleton.
"The secret to a healthy lifestyle is not crash diets, marathons or cutting out bread from your diet - in fact Hovis Wholemeal bread can actually help you achieve your healthy eating goals this New Year."
The Hovis Wholemeal Gold Start Challenge Facebook app has been designed to help women achieve their weight loss aims, says the baker.
Two images of Pendleton have been released to support the campaign. One is of Pendleton wrapped in a 'union flag' in Hovis colours, and the other is of the track star dressed as Dorothy from the Wizard of Oz. Pendleton also explains the Gold Start Challenge in a YouTube clip (below).
Pendleton will be out to defend the Olympic sprint title that she won in Beijing in 2008 during the London Games this summer. She will also take part in the team sprint and keirin events.
Pendleton joined Hovis as brand ambassador at the beginning of 2010.
Related links
January 2011: Pendleton fronts latest Hovis campaign
January 2010: Pendleton is new face of Hovis
Thank you for reading 20 articles this month* Join now for unlimited access
Enjoy your first month for just £1 / $1 / €1
*Read 5 free articles per month without a subscription
Join now for unlimited access
Try first month for just £1 / $1 / €1