Police hunt for man who drove 'stolen car' at cyclists (video)
The man drove at cyclists, shouting "it's a stolen car, I'll run you lot over"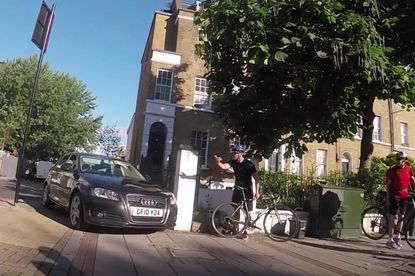 (Image credit: Picasa)
Police are hunting for a man who drove aggressively at cyclists, in a black Audi A3 he later claimed was stolen.
Footage shows the driver shouting at cyclists from a set of lights, close to Clapham North Station, in London - before driving off, then mounting the pavement to continue the threatening behaviour.
Police are appealing for anyone who recognises the man to contact the police as soon as possible.
"Luckily no-one was seriously injured or even killed by this reckless driver," Det Con James Preston said.
Footage from the incident shows tempers become heated when the driver swerved into a bus lane, almost contacting a cyclist, before shouting threateningly at the traffic lights.
Leaving the lights, one cyclist taps the rear of his car.
Seconds later, the driver is seen reversing from a residential road, into the path of the cyclists in the bike lane.
Manoeuvring onto the pavement, he drove at a cluster of riders, shouting "it's a stolen car, I'll run you lot over."
When an unmarked police car arrived at the scene, the driver reversed away "at speed", down Dorset Road.
The events took place at 08:00 last Wednesday August 1.
Describing the incident, a police spokesperson said: "When the lights turned green, the driver turned his car towards the victim and drove at him at speed before changing direction."
The cyclist almost hit in the first instance was IT consultant, Dave Clifton.
The 50-year-old later told the BBC: "It's worrying having drivers on the road like that."
"It's all just really bizarre. I don't know if he's just having a bad morning or what. He seems to be picking on everybody.
Officers are attempting to trace the driver, and Det Con Preston said: "[we] urge anyone who recognises him to contact the police as soon as possible."
Thank you for reading 20 articles this month* Join now for unlimited access
Enjoy your first month for just £1 / $1 / €1
*Read 5 free articles per month without a subscription
Join now for unlimited access
Try first month for just £1 / $1 / €1