Pooley and Cooke head Brits at Fleche Wallonne Femmes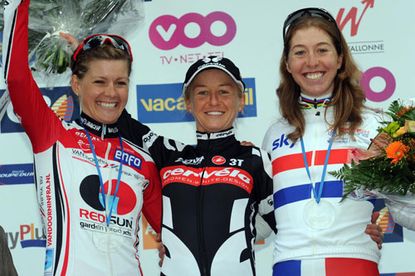 Emma Pooley and Nicole Cooke head up a strong British contingent at La Fleche Wallonne Femmes in Belgium on Wednesday.
Both are former winners of the UCI World Cup race, which takes place before the men's WorldTour event on the same day. Pooley (AA Drink-Leontien.nl) won in 2010, and Cooke (Faren Honda) scored a trio of wins in 2003, 2005 and 2006. Cooke was second in 2010 behind Pooley and fifth last year.
British riders Sharon Laws (AA Drink-Leontien.nl) and Emma Silversides (Sengers) are also on the start list for the race, with Emma Trott (Dolmans-Boels), Katie Colclough (Specialized-Lululemon) and Lucy Martin (AA Drink-Leontien.nl) listed as reserves.
One thing stands in the way of Pooley, Cooke or anyone else taking the victory on Wednesday - defending champion Marianne Vos (Stichting Rabo Women) of the Netherlands. Vos has made the race her own - as she has with so many other events - winning four of the past five editions. She has already won two of the three rounds of the 2012 UCI World Cup.
Last year Pooley was forced to miss the race due to injury, setting up an enticing edition of the event this week given particular resonance in Olympic year.
The exact line-up of the British women's Olympic team is far from settled, and selectors will be looking at the form of riders at races such as Fleche Wallonne Femmes to gauge form. Defending Olympic champion Cooke has already taken a win this year, a stage of the Energiewacht Tour earlier in April, showing that she is building form nicely ahead of the summer Games.
By her own high standards, the past two season have not brought in many victories for Cooke, and her position as British number one has been somewhat usurped by road race national champion Lizzie Armitstead and Pooley. Armitstead is absent from the race, with team-mate Pooley leading the AA Drink squad.
At 123km, the women's edition of Fleche Wallonne is 71km shorter than men's edition yet still includes two ascents of the tough Mur de Huy climb, one at the finish. The riders tackle nine climbs in total and it's a race that suits climbers - such as Pooley - and tough, punchy riders - such as Vos and Cooke.
German Tour of Flanders winner Judith Arndt (GreenEdge) and Swede Emma Johansson (Hitec-Mistral) have also fared well at Fleche Wallonne in recent years, and both will be looking to take their first win in the race on Wednesday.
La Fleche Wallonne Femmes 2012: Route
Belgium
Wednesday, April 18
Distance: 123km
Start: Huy
Finish: Huy
La Fleche Wallonne Femmes 2012: Climbs
Start: 0km - Huy
39.0km - Côte de Peu d'Eau - 2.7km long, 3.9% average
44.5km - Côte de Haut-Bois - 1.6km long, 4.8% average
69.5km - Côte de Groynne - 2.0km long, 3.5% average
76.0km - Côte de Bohisseau - 1.3km long, 7.6% average
79.0km - Côte de Bousalle - 1.7km long, 4.9% average
92.0km - Mur de Huy - 1.3km long, 9.3% average
108.0km - Côte d'Amay - 1.5 km long, 6.7% average
114.5km - Côte de Villers-le-Bouillet - 1.2 km long, 7.5% average
Finish: 123.0km - Huy (Mur de Huy) - 1.3km long, 9.3% average
La Feche Wallonne Femmes: Recent winners
2011 Marianne Vos (Netherlands)
2010 Emma Pooley (Great Britain)
2009 Marianne Vos (Netherlands)
2008 Marianne Vos (Netherlands)
2007 Marianne Vos (Netherlands)
2006 Nicole Cooke (Great Britain)
2005 Nicole Cooke (Great Britain)
2004 Sonia Huguet (France)
2003 Nicole Cooke (Great Britain)
2002 Fabiana Luperini (Italy)
Related links
La Fleche Wallonne 2012: The Big Preview (men's race)
2010: Pooley wins women's Feche Wallonne, Cooke second
Thank you for reading 5 articles this month* Join now for unlimited access
Enjoy your first month for just £1 / $1 / €1
*Read 5 free articles per month without a subscription
Join now for unlimited access
Try first month for just £1 / $1 / €1