Poor infrastructure, police harassment, a die-hard bike community - what it's like to be a cyclist in the Middle East
Behind all that money, cycling is growing in some regions while being outlawed in others.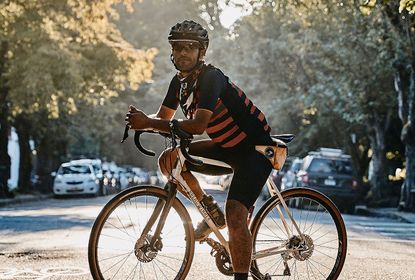 (Image credit: Patrick Daly)
Go ahead and take a minute to think about what cyclists look like or where they are from. I bet you don't picture someone who looks like me — a Kuwaiti man.
And when there's talk about increasing diversity where it's needed, such as in the sports industry, people like me aren't showing up in those "diverse" ads.
What's more, teams like UAE Team Emirates and Team Bahrain Victorious, funded by those deep Middle Eastern pockets, have rosters of mostly non-Arab riders. It's somewhat peculiar how they represent countries without their people.
Yet when I ask those working in the cycling industry about the lack of Arab cyclists, I get silence. Or worse, "reality check" facts about my region of the world. "It's too hot." "It's too dangerous," "The politics there…" this and that and all the in-between, I've heard it all.
But us Arabs, we do cycle, we buy bikes and host WorldTour races — yet remain unseen and face tremendous challenges just trying to ride.
And for a while, I felt marginalized, valueless, and, quite honestly, alone.
My cycling journey started in 2015 when I moved to Portland, Oregon for school. I bought my first bike a week after moving, and I started commuting almost everywhere I could go by bike. I weighed 355 pounds then, and biking was a new activity for me. But in Portland, that is simply how you get around and I'm not fond of driving that much, anyway.
My passion for cycling grew faster than wildfires. This journey was shaped by some of the best cyclists in the industry, influential groups and amazing people along the way. Looking back at that experience, I was being prepared to face something much bigger in the future. I wasn't sure what it might be back then, but I would find out real soon.
Along with cycling, I'd fallen hard for Portland. But visa issues forced me to leave what I thought would be my forever home in September 2021. After a turbulent 40-hour trip across the globe in the middle of a pandemic, I landed in Kuwait amid a sandstorm.
I knew what I was going back to, and I dreaded it. I was under pressure to re-assimilate into a car-centric society—a place grappling with the harsh reality of change and lack of action. In Portland, I found safety, growth and opportunity in a place that's bicycle driven. In Kuwait,
I was worried about losing access to the simple things like riding from my front door and not worrying about record-breaking heat, air pollution, or dust storms — things many people take for granted.
I tried to look at the bright side of things —I was with my family and my old friends— however, I experienced a reverse culture shock so strong that I refused to assimilate into a place that's driving nails into its own coffin due to corruption, governmental failures and a societal divide on the simplest of things.
But Oregon taught me to ride rain or shine, so I went out to find a cycling community.
For the past five months, I've been documenting the Kuwait cycling community in a series of projects such as "Meet The Rider" and "Kuwait's Cycling Guide". I've been sharing these projects and findings on a cycling blog, titled "The Paperclip" after that all-powerful piece of metal that's become a sign of unity and holding together in the face of adversity.
In addition to serving as an outlet for my stories, The Paperclip is meant to fill a void I feel and live in: the rich cycling history of the Middle East that goes unseen.
But to share these stories — even to live our lives as cyclists— involves poking the bureaucratic and dogmatic bear blocking the path to growth and prosperity.
During my first few rides in Kuwait, I felt unsafe even though the group I rode with had their own safety car, complete with strobing flashlights. Still, cars were getting uncomfortably close to the group, passing at fast speeds, laying on their horn or harassing us.
Leaving as early as 6 a.m. for a ride does not guarantee safety on the road either — neither from cars nor the crumbling infrastructure. It may be a surprise to see the failing infrastructures in one of the world's wealthiest countries but in Kuwait, potholes and terrible traffic engineering lead to the death of many motorists.
But what came as the biggest shock to me was the news that cycling on the road is actually illegal. I've been stopped many times by the police demanding they escort me back to my car since I was "breaking the law". But when I ask them to elaborate on the "laws" I was breaking, they cave and simply blame it on the person higher up the ranks.
What it all comes down to is that there are some powerful figures in Kuwait that are anti-cyclists, anti-growth or anti-westernization. Perhaps all three. And the deeper I dug, the more confused I got about the whole thing. But the scary thing is, these powerful figures can take away my rights — even one as harmless as my right to ride a bicycle— at any given moment.
But why go after bikes? What's the motive behind this? At a time when Saudi, UAE and Qatar are building world-class bike paths and hosting World Tour events, bicyclists in Kuwait simply lower their heads and ride silently through failing infrastructure, police and motorist harassment, and no apparent future improvements.
Kuwait has the money, local expertise and workforce to steer the country into a brighter and more sustainable future, yet it feels as if time has stood still over the last 30 years. Some argue that Kuwait has seen great development, and it has, but it's developing in all the wrong places such as shopping malls, the latest food trends and wasteful events that bring no solution for this stagnant old man of a country.
Some of the struggles cyclists face here is whenever there's an accident involving a motorist and a cyclist, the hammer of the law comes down on the weaker link, the cyclists.
In 2019, there was a glimpse of hope for building cycling infrastructure as advocated by Saad Alsubaie, a local bike shop owner and national team cyclist. Sadly, Saad was struck by a car and left for dead on one of his usual routes. This devastated cycling communities across the region and following a national campaign, the Kuwaiti parliament passed its first bicycle infrastructure plan. Yet four years later, nothing has been built. Instead, in response to cyclists getting hurt, the government simply bans cycling access to major roads or bridges.
As a cyclist, it makes me feel that asking for simple things such as safety for pedestrians and cyclists is too much to ask for. But the mental and physical consequences of empty promises from officials is nothing new, and Kuwait has been stuck in this circle of dysfunction for some time.
And when we're not contesting with our fellow humans, there's nature to contest with. Riding in record-breaking heat, dust storms and poor air quality are all a fact of life for cyclists in this part of the world.
Yet regardless of the hardships and the headwinds, local cyclists endure and persevere. In fact, Kuwait is home to multi-time Arab champions and a dozen gold medal athletes such as Sayed Jaafar Al-Ali, Salman Alsaffar and Latifa Albazie. Competition aside,some of the most dedicated cyclists I've ever met live in Kuwait.
This dedication is born from the simple desire to ride — something we can all relate to, no matter where in the world you live.
But with that desire comes struggle, discipline, highs and lows, and that experience as a whole gives life a meaning in a rather desaturated landscape.
Riding bikes is freedom.
In the five seemingly never-ending months that I've been back in Kuwait. I was pushed to the limits — and even over the edge— many times, but what maintains my balance is the motion of pedaling forward. In helping reshape the cycling scene in a place that fights those who want to see bring positive growth for future generations.
And my ask for you, for the bike world, is for us Arab cyclist to be seen. Really seen. To look past the glamor of World Tour races and top-notch bike paths, and to dig deeper to find out what the average cyclist here struggles with on a daily basis. The Arab world needs more effort from the cycling world to make cycling not only popular, but safe. Don't just sell us your latest tech, give us a seat at the table and be ready to listen. Only then, change will come.
Thank you for reading 20 articles this month* Join now for unlimited access
Enjoy your first month for just £1 / $1 / €1
*Read 5 free articles per month without a subscription
Join now for unlimited access
Try first month for just £1 / $1 / €1