7 of the best: indoor trainers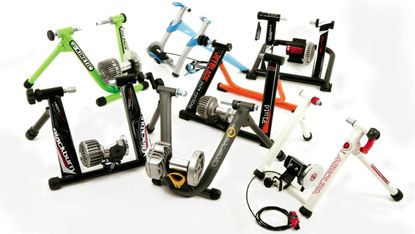 2nd September 2010 Words: Stuart Bowers
They'll never replace the real thing, but with the onset of shorter days and wetter weather, indoor trainers are the perfect way to supplement your winter riding. You can even watch the telly...
Bikes are for riding outdoors, right? So what's the deal with riding in your living room or garage? The usual reason is the good old British weather. Getting soaking wet, cold, or both, is not much fun and, as we're now well past the longest day, lack of daylight hours will soon be a consideration too.
So, pedalling in the comfort of your own home, listening to your favourite tunes, or even watching some telly, doesn't sound like a hard sell. Add to that a host of potentially sizeable fitness gains from some structured sessions on an indoor trainer, and you've got enough reasons to override the monotony of riding a bike without actually going anywhere.
It makes even more sense when a busy lifestyle limits how much time is left for pedalling. A workout on an indoor trainer offers potentially much more 'bang for your buck' — think quality not quantity — maximising your fitness gains within a much shorter timeframe.
We've picked seven indoor trainers chosen for their minimal fuss approach, knowing full well that if it takes too long to set the thing up it's often enough of a reason to give it a miss. All of the trainers on test here can be set up in under a minute, some in under half a minute, so you'll be under way almost immediately and maximising your riding time.
What to look out for
You can trust Cycling Weekly. Our team of experts put in hard miles testing cycling tech and will always share honest, unbiased advice to help you choose. Find out more about how we test.
Easy bike mounting/removal
The last thing you need is to be faffing around trying to get your bike on and off — trust us, it'll just put you off using it. Simplicity is the key, and the best designs can be operated one-handed, leaving your other hand free to guide the bike. As well as that, the design needs to hold the bike firmly and securely.
Suitability
Firstly check there is sufficient range of resistance to suit your needs for the type of workouts you intend to do. Secondly, while rare, make sure there are no compatibility issues with your bike. We've come across one or two examples of bike frames being incompatible with certain designs on the market.
Stability
A solid build quality, preferably with a bit of weight and a large platform area, or 'footprint', are the best attributes for maximum stability — essential if you intend to really go for it with your riding efforts. Rubber feet will help keep it still and some form of levelling adjustment is useful for uneven surfaces.
Our 7 of the best
Tacx's excellent retention/release mechanism makes light work of getting a bike on and off. A neat rubber foot adjustment copes with uneven surfaces and its broad resistance range makes it highly versatile. The tyre grips the roller well in all but the hardest efforts, where some slippage occurred. Not the quietest but we like the inclusion of a travel bag, and front wheel riser. The Satori is a smooth, realistic-feeling trainer — a good all-rounder.
Our score
9/10
A superb quick-release arm makes fitting and releasing the bike effortless, in just a few seconds. Its large steel frame sets this trainer apart for stability — it's rock steady, possibly a little bulky, but there's no provision for levelling. Also, the bike is not supported as rigidly as its solid build suggests, although this is only really an issue on short, hard blasts. Elite's Elastogel roller is the best on test for noise reduction, grip, and reduced tyre wear.
Our score
8/10
A strong shove is required to close the cam, but the result is that the bike is held very firmly. A visibly large flywheel and roller diameter combine to give this unit a very realistic road-like feel. Folding legs open out to provide a wide and stable stance which coped with every type of effort we could throw at it. There's some adjustment levelling on its rubber feet, but not much. Very little to complain about though — it's a top choice.
Our score
9/10 Test Winner
Great adjustability means no worries on uneven ground plus it's possible to get the rear wheel only barely off the floor, negating the need for a riser block under the front wheel. Getting the bike on is simple but releasing it is fiddlier with sweaty hands. The resistance responds intuitively to your pedalling — a little jerky at low intensity but excellent for high-power efforts, with a solid build that provides good stability.
Our score
8/10
Fitting takes a while but is effective. Ride feel is smooth and stability good, but initial resistance is high. Less powerful riders will find it hard to do a light warm-up but this improves after a couple of minutes. Beyond that the resistance curve is progressive providing a ramp up to very hard efforts. Ride feel could be improved by allowing the rear wheel to roll down more gradually, but considering the price it's good value.
Our score
7/10 Best on a Budget
Yet another novel way to make light work of getting the bike mounted, we really like the way the Kinetic system works. No chance of stability issues from such a weighty and wide-stanced trainer either. The ride feel offered by this unique flywheel and fluid unit is exceptionally smooth, and realistic. However, the roller does not grip the tyre well in short, hard bursts of speed — a shame given that it's almost faultless in everything else.
Our score
9/10 Test Winner
Not as heavily built as the competition, with some cheap-feeling components, the initial suggestion was that the V150 might not be up to much, but don't judge a book by its cover. Mounting the bike was easy, and the ride feel was smooth and progressive, with some fine-tuning possible using the handlebar-mounted resistance adjuster — it covered all bases in terms of effort. The tyre did tend to slip on the roller, though.
Our score
7/10
Verdict
No one trainer stands head and shoulders above the rest. It seems our findings suggest the 'ultimate' indoor trainer would actually be some kind of genetic mutation of the whole group. The price of the JetBlack would be ideal, utilising the simplicity of the mounting/release mechanism from either Kurt Kinetic or Elite. Elite's Elastogel roller is outstanding for grip and noise, and both CycleOps and Kinetic provide exceptional resistance units. The sheer practicality of the Tacx set-up makes that hard to ignore too.
If money were no object the verdict would go to the Kinetic, but at £85 cheaper the CycleOps Fluid2 is right on its heels and so wins on value. If portability is more important, then consider the Tacx Satori. Truly a hard one to call.
More 7 of the best: 7 of the best mudguards
More 7 of the best: 7 of the best high power front lights
More 7 of the best: 7 of the best car racks
More 7 of the best: 7 of the best CO2 inflators
This article first appeared in the September 2010 issue of Cycling Active magazine
Thank you for reading 10 articles this month* Join now for unlimited access
Enjoy your first month for just £1 / $1 / €1
*Read 5 free articles per month without a subscription
Join now for unlimited access
Try first month for just £1 / $1 / €1