Boardman launches 2014 Elite range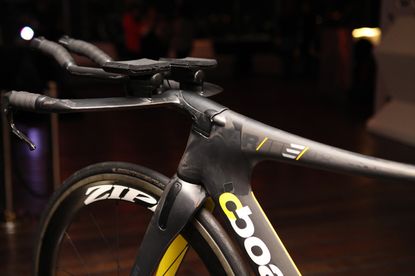 Chris Boardman unveiled his 2014 Elite series on the top floor of a London skyscraper on Thursday night. The former Olympic champion and Tour de France yellow jersey's decision to shout it from the rooftops - Centre Point's Level 31 - seemed entirely justified: his company's all-new high-end range has been completely re-engineered and expanded to create six distinct frame platforms.
The star of the show was the new AiR/TTE time trial bike, which was getting its second launch - a prototype was finished in time for defending Ironman world champion Pete Jacobs to use in Hawaii earlier this year and the bike on display at the launch was one made for Jacobs.
Boardman himself was bursting with pride about the TTE. "We started off by just looking at parts of bikes and using tools like CFD [computational fluid dynamics] but this time we've taken it to the next level," he said.
"We've laser scanned our athletes and we've moved from our original modelling process to a more holistic approach, building everything in that goes into a performance, every nut and bolt.
"We also got measurements from wind stations around the world [concluding that the average wind speed across Europe and North American on a given day is about 9mph] and realised that we needed to be modelling bikes for much, much higher yaw angles, so that's what we did."
The TTE/9.8 comes built with Dura-Ace Di2 (£8,999.99) or Ultegra Di2 (£4,999.99) or frameset only (£3,499.99), which is both electronic and mechanical-groupset compatible. The cheaper TT/9.4, 9.2 and 9.0 range uses last year's AiR TT frame with a few tweaks and improvements.
"For the [aero AiR] road bikes we took all the tube shape information that we got from the time trial project," said Boardman. They also borrow the TTE's new four-position seatpost that uses a single mounting bolt to achieve seat angles of between 73° and 75°.
"All the seatpost clamps have also been concealed and all cables are out of the airflow. The aero road bikes, like the TT bikes, now have hidden brakes - the front mounted inside the fork and rear under the chainstays.
The SLR lightweight climbing bike has not visibly changed as radically as its stablemates, but Boardman has taken 100g off the raw frame weight, which is now 795g. This frame has a new carbon lay-up, a new one-piece carbon BB shell and head tube that all lighten it without reducing strength or stiffness. The SRAM Red-built SLR/9.8 weighs 6.4kg, an impressive 400g under the UCI weight limit.
The SLS platform is brand new for Boardman. Intended as an "endurance race bike" (longhand for sportive), it has a raw frame weight of 850g but slightly less aggressive geometry and more of an emphasis on comfort. There are builds ranging from £1,899.99 to £3,999 plus - as with all the Elite range bikes - a frameset-only option.
The CXR is the other brand new addition to the Elite series, aimed not only at cyclo-cross racing but also at do-it-all hacking and commuting. The 9.0 uses a triple-butted aluminium frame with smooth welds that make it indistinguishable at a glance from carbon. It has a tapered head tube, PF30 bottom bracket and profiled seatstays for comfort with the Avid BB7R disc brake mounted on the chainstay so that comfort isn't compromised.
Production versions will have rack mounts and mudguard eyes. The two CXR models above this, the 9.2 and 9.4 use a new carbon monocoque frame. Its geometry is somewhere between traditional cyclo-cross and road. With a frame weight of 1,050g, with 28c tyres it would make a great disc-brake road bike. This appears to be Boardman's only concession to this growing non-UCI-legal area of road cycling.
The first SLS, SLR and CXR models from the new Elite series will be available during December, with further models added early in the New Year. The AiR/TTE will be available in spring 2014.
AiR (Aerodynamic Racing)
AiR/9.0 - £1,999.99
AiR/9.2 - £2,799.99
AiR9.2 Di2 - £2,999.99
AiR/9.4 Di2 - £3,999.99
AiR/9.8 - £4,999.99
AiR/9.8 Di2 - £7,999.99
AiR/9.8 frameset - £1,599.99
SLS (Superlight Endurance Series)
SLS/9.0 - £1,899.99
SLS/9.2 - £2,599.99
SLS/9.4 Di2 - £3,199.99
SLS/9.8 £3,999.99
SLS/9.8 frameset - £1,299.99
SLR (Superlight Racing)
SLR/9.8 - not available in the UK
SLR/9.4 - not available in the UK
SLR/9.8 frameset - £1,399.99
AiR/TTE (Aerodynamic Racing / Evolution)
AiR/TTE/9.8 Di2 - £4,999.99
AiR/TTE/9.8 Di2 Dura-Ace - £8,999.99
AiR/TTE/9.8 frameset - £3,499.99
AiR/TT (Aerodynamic Racing)
AiR/TT/9.4 Di2 - £3,499.99
AiR/TT/9.2 - £2,799.99
AiR/TT/9.0 - £2,299.99
AiR/TT/9.8 frameset - £1,799.99
CXR (Cyclocross Racing)
CXR 9.4 - £3,299.99
CXR 9.2 - £2,299.99
CXR 9.0 - £1,599.99
CXR 9.8 frameset - £1,299.99
Photos of the Boardman AiR TTE 9.8 Di2
Related links
Boardman Bikes new AiR TTE time trial machine unveiled
Thank you for reading 10 articles this month* Join now for unlimited access
Enjoy your first month for just £1 / $1 / €1
*Read 5 free articles per month without a subscription
Join now for unlimited access
Try first month for just £1 / $1 / €1
Founded in 1891, Cycling Weekly and its team of expert journalists brings cyclists in-depth reviews, extensive coverage of both professional and domestic racing, as well as fitness advice and 'brew a cuppa and put your feet up' features. Cycling Weekly serves its audience across a range of platforms, from good old-fashioned print to online journalism, and video.