Never stop pedalling – Cycflix makes your Netflix stop if you aren't turbo-ing hard enough
Netflix enforced turbo sessions thanks to Cycflix's clever gadgetry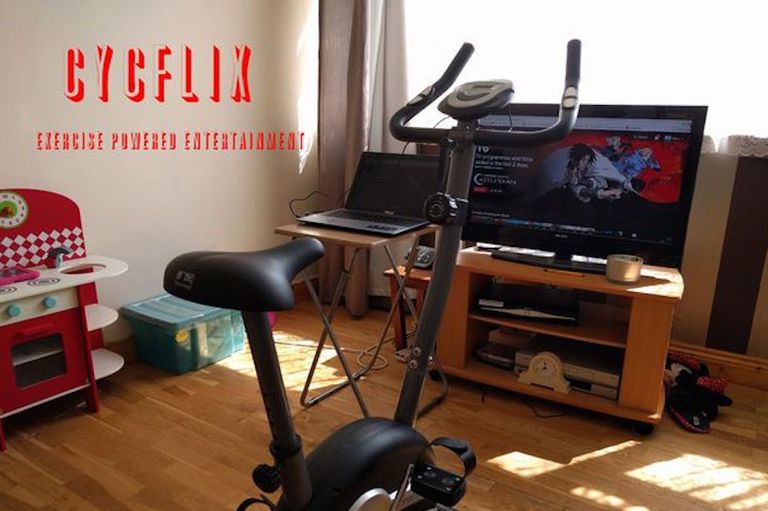 We all know that turbo trainer sessions can be mind-numbingly dull, and with winter fast approaching, those dreary hours locked in a hot cupboard are only round corner.
Problem is, if you watch Netflix you end up spinning at a steady pootle rather than hammering the efforts as you should.
Fortunately, brainy student Ronan Byrne, a Dublin Institute of Technology student, has developed the perfect cure – Cycflix. The premise is simple, yet genius – you can only watch Netflix if you keep up with your preprogrammed pace.
You hook up a stationary bike to the programme and if you stop your workout, or drop below your intended pace, Netflix stops playing.
>>> Six best smart turbo trainers for 2017 (opens in new tab)
Check out Ronan's video here:
https://www.youtube.com/watch?time_continue=122&v=-nc0irLB-iY
The technology is taken care of by some fancy, custom Python script on a PC and hooking up your trainer to an Adriuno Nano micro-PC (confused yet?), but once you've set it up based on these instructions (opens in new tab) you just programme your workout and take it from there.
Workout-wise, Cycflix is pretty advanced. As well as plotting your workouts, you can also programme in your breaks, intervals etc. What's more, it's also compatible with various other streaming services, including Hulu.
It's certainly the most novel training motivation we're yet to see, and depending how into your TV you get, you'll probably end up smashing your PRs.
Thank you for reading 5 articles this month* Join now for unlimited access
Enjoy your first month for just £1 / $1 / €1
*Read 5 free articles per month without a subscription
Join now for unlimited access
Try first month for just £1 / $1 / €1