Dangers of fake bike parts highlighted by BBC documentary
Fake Britain programme focuses on counterfeit FSA bars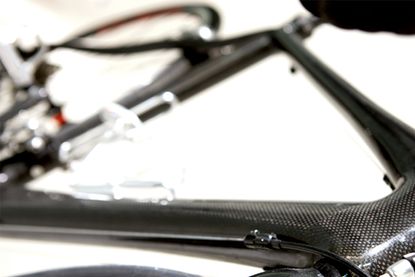 Buying parts for your bike online might seem tempting, but a BBC documentary shown last night has highlighted the dangers of counterfeit carbon parts sold bought on the internet
The Fake Britain documentary focused on the case of mountain biker Matt Phillips who bought a set of FSA carbon flat bar handlebars on eBay, which ostensibly seemed to be the real deal, having all the correct graphics and feel of FSA bars. However, while out riding a short time later, the bars failed catastrophically, snapping into three pieces while Matt was descending.
>>> Cheap Chinese carbon imports: are they worth the risk?
The result was a broken wrist in two places, which would require seven weeks in plaster and many months of physiotherapy. And even after all that Matt still hasn't regained full movement of the wrist.
Just as big a shock came when Matt sent the bars back to FSA headquarters in Milan, only for the Italian manufacturer to find that they weren't made by FSA after all, and were in fact a cheap carbon copy produced in the Far East, therefore not conforming to European safety standards.
>>> Warning of fake FSA cycle components
And it turned out that this wasn't an isolated incident, with FSA finding over 2,000 similar counterfeit parts online in just a single month. In order to combat this problem, the company puts a special FSA logo that can only be seen under ultraviolet light on all of its products.
eBay is also aware of the problem and has taken steps to protect its users, reminding them that counterfeit products are not welcome on any of its sites.
>>> Your chance to buy Bradley Wiggins's time trial wheels on eBay
"A large community of legitimate sellers trade authentic goods on eBay in the UK every day, and we work hard to protect them through anti-counterfeit initiatives including the Verified Rights Owner Program (VeRO) which helps legitimate sellers to protect their goods."
Bike of the Year 2016
This isn't the first time that Fake Britain has examined the problem of counterfeit cycling equipment, having previously highlighted the issue of fake copies of Giro helmets that also fail European safety tests.
Of course our advice would be to always buy through your local bike shop or through a reputable online store, ensuring the quality of the parts that you are buying and to make sure there is a warranty option just in case the worst happens.
Thank you for reading 20 articles this month* Join now for unlimited access
Enjoy your first month for just £1 / $1 / €1
*Read 5 free articles per month without a subscription
Join now for unlimited access
Try first month for just £1 / $1 / €1