FSA helps you choose your replacement headset
Enter four measurements and out pops your replacement headset bearing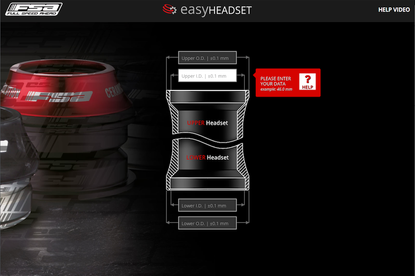 (Image credit: FSA)
Headset replacement is one of the most confusing areas of bike tech. Whereas bottom brackets and axles each come in a few possible variants, the range of options for headset bearings is vast, with every bike seeming to use something a bit different from every other bike and differences between bearings not at all obvious.
Does an Orbit 1.5E ZS replace an Orbit 1.5 ZS SC or a Big Fat Pig 1.5R replace a Big Fat Pig? (Yes, that really is a headset model name).
>>> Winter bikes: do you really need one?
Headset bearings often need replacement too, as they are subjected to a lot of stress and in the line of fire for damp and grit from the road.
Watch: How to adjust your headset
So FSA, which provides OEM headsets for a lot of bikes, has come up with an on-line tool called FSA Easy Headset (opens in new tab) to help you work out which ones will fit your frame.
>>> How to change your bar height (video)
You'll need a sliding vernier gauge to measure the internal and external diameter of the top and bottom of your headset.
These four measurements are entered into FSA's app, which prompts you with available values then pops out available FSA headsets which will fit your frame.
One thing you don't get to choose though is the height of the top cap. It's not likely to be an issue if you are running spacers below your stem, but could potentially be a problem if you've slammed your stem and cut down the steerer tube.
Well, you could always buy a new fork too…
Thank you for reading 5 articles this month* Join now for unlimited access
Enjoy your first month for just £1 / $1 / €1
*Read 5 free articles per month without a subscription
Join now for unlimited access
Try first month for just £1 / $1 / €1