Limited edition custom Fizik R1B launched for the Giro
To celebrate the centenary edition of the Giro d'Italia, Fizik has produced a stunning custom version of its range topping R1B shoe.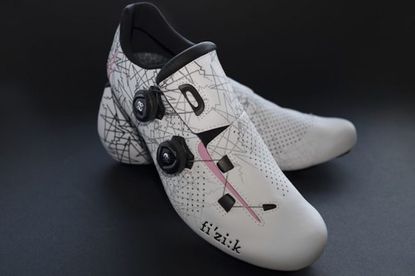 Ahead of the 100th edition of the Giro d'Italia, Italian brand Fizik has announced a special 'Climb Edition' of its range topping R1B shoes. We have previously reviewed the standard version of the Fizik R1B, but the special 'Climb Edition' features a redesigned upper with graphical representations of the Monte Grappa and Asiago climbs. The climbs are well established within the race and will feature this year on stage 20.
>>> Giro d'Italia 2017's toughest climbs
A number of Fizik's sponsored riders will wear the special edition R1B Climb shoes at this year's Giro which begins in Sardina at the weekend. These include Team Sky leader, Geraint Thomas, who explained that "to share in expressing the passion and excitement of this event is an honour. By stage 20 I don't want to be thinking about my feet or my footwear but it's good to know they'll be looking their best."
Video - Giro d'Italia essential guide
Other riders who will wearing the shoes, include Team Sky domestique, Salvatore Puccio and BMC team leader, Rohan Dennis.
>>> Is this Giro d'Italia kit the classiest ever released?
Should you want a pair, you will have to move fast. According to Fizik, besides those worn by and made available to the pros, a strictly limited edition run of just 40 pairs are available to buy from Fizik's website, or from leading dealers worldwide. The price will be £329.99, which is is £30 more than the RRP of the standard version.
In addition to featuring in the race, the Monte Grappa and the Asiago climbs are especially significant to Fizik, as they are visible from the Italian company's headquarters in Vicenza. Aside from the special graphics on the upper, the Fizik R1B Climbs Edition remains the same as the standard version, with Dual Boa dial, volume control, uni directional carbon soles.
Thank you for reading 10 articles this month* Join now for unlimited access
Enjoy your first month for just £1 / $1 / €1
*Read 5 free articles per month without a subscription
Join now for unlimited access
Try first month for just £1 / $1 / €1
Oliver Bridgewood - no, Doctor Oliver Bridgewood - is a PhD Chemist who discovered a love of cycling. He enjoys racing time trials, hill climbs, road races and criteriums. During his time at Cycling Weekly, he worked predominantly within the tech team, also utilising his science background to produce insightful fitness articles, before moving to an entirely video-focused role heading up the Cycling Weekly YouTube channel, where his feature-length documentary 'Project 49' was his crowning glory.