New Bkool Smart Bike brings the outdoors indoors
Smart bike uses Bkool's turbo trainer software to deliver courses and structured workouts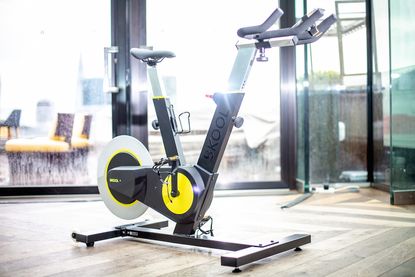 Branching out from its base in turbo trainers, Bkool has launched a smart bike. This uses the software developed by Bkool for its smart turbo trainers, transferring it to an exercise bike.
So there are a 5 minute and 20 minute FTP tests, to set up your parameters. You can then choose to follow a structured exercise routine or one of over three million real routes uploaded by Bkool's user community. The bike will adapt the required effort over time to reflect your increasing fitness levels, setting your training zones to match.
>>> Five indoor cycling mistakes to avoid
The Bkool Smart Bike automatically sets the resistance level, adjusting to your power level. It's capable of hitting resistance of up to 850 watts at 90rpm or 1500 watts at 120rpm. The resistance unit is magnetic and, although skinny, the flywheel carries a lot of inertia to simulate real ride conditions. The Smart Bike is also completely silent, due to its belt drive.
If you want to manually control the unit, its smartphone app lets you set your own resistance level instead. There's Bluetooth and ANT+ connectivity, letting you link the Smart Bike up to a computer screen, a tablet or a TV monitor, so you can follow your stats for your chosen exercise routine or route. You can also control the virtual route you've chosen, including the simulated weather conditions.
Bkool says that it has incorporated virtual gear shifting, for a realistic ride feel when riding a route. there's also internet connectivity to let you download more exercise programmes or routes or tune into classes from instructors around the world.
Bkool says that its Smart Bike weighs 45kg, leading to high stability. There's lots of adjustability of ride position, including saddle and bar height and bar reach. With a price of £1249 it's not cheap, but as part of the package Bkool will arrange for a technician to deliver the bike and set it up for you. You also get a one year premium subscription to the Bkool Simulator app.
Thank you for reading 20 articles this month* Join now for unlimited access
Enjoy your first month for just £1 / $1 / €1
*Read 5 free articles per month without a subscription
Join now for unlimited access
Try first month for just £1 / $1 / €1