Bkool reveals two new smart trainers right in time for your winter training
Indoor training company Bkool has released two new smart trainers, the Smart Pro 2 and the Smart Air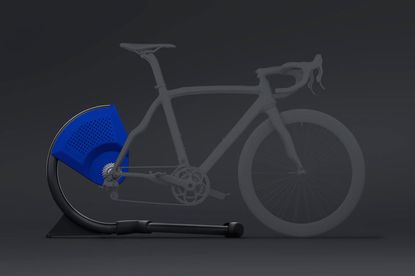 Indoor training company Bkool has released two new turbo trainers, including an updated version of its smart trainer, the Smart Pro.
The first big development is that the Smart Pro 2 is a whole lot quieter thanks to a re-designed fan cover. The maximum sound it should pump out is 68 decibels, and that's when you're riding at 35kmh.
Building on its previous technology, Bkool says the trainer can simulate gradients of 20% and is also capable of simulating inertia, which, according to Bkool, accurately simulates the feeling of descending or pedalling uphill.
Watch: Turbo trainers buyer's guide
Both new trainers - the Smart Pro two and the new Smart Air - simulate the trainers resistance based on the route, "providing extreme terrain" simulation.
Like the Smart Pro, the Smart Air is also capable of simulating 20% gradients, but also has a built in power meter. Bkool says it measures the exact watts being given out by the cyclist. Both trainers come with ANT+ and Bluetooth Smart technology.
The big development with the Smart Air, though, is that the company has mimicked the act of cycling by implementing "Rocking System" technology, allowing the bike to move side to side giving realistic pedalling feel.
>>> Four of the best turbo training sessions and indoor cycling workouts
The Bkool Smart Air is a minimalist shape, with a an exaggerated curve where the rear wheel would usually be. We've not seen the trainer, but we're assuming this allows the design to rock from side to side.
The two new trainers also come with a subscription to Bkool's virtual trainer software, which allows the rider to ride any route, take part in 3D racing, and virtual velodrome games. They can also customise and analyse any workout using Bkool's analytical software.
Happily for users, there should be very little assembly required, as both trainers come in two pieces, so riders can just "plug in and play".
The Smart Pro 2 with 3 months simulator subscription included costs £499, and the Smart Air costs £1099 and will be available in October.
Thank you for reading 20 articles this month* Join now for unlimited access
Enjoy your first month for just £1 / $1 / €1
*Read 5 free articles per month without a subscription
Join now for unlimited access
Try first month for just £1 / $1 / €1