New carbon hub from Enve
Enve replaces ceramic bearings with steel and DT Swiss internals with its own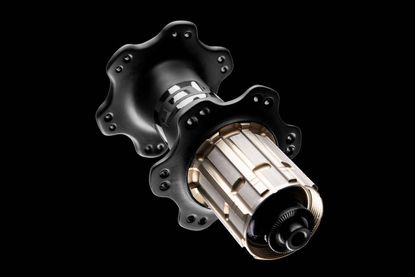 (Image credit: Ian Matteson)
Enve says that the new, second generation, Enve hub is designed to optimise flange geometry, provide best in class reliability and refine ride quality.
That means that the hub flange spacing and diameter have been increased to improve wheel stiffness. There's a new arrangement of paired spoke holes, which Enve says optimises bracing angles for greater efficiency and better ride feel.
Enve launched its aftermarket hubs in 2015, with patented moulded-in spoke holes and using DT Swiss internal parts. Now Enve says that it's completely redesigned the hub with a US made carbon shell and its own internals, which has allowed it to improve on its first generation design.
Enve has moved from ceramic to stainless steel bearings. According to Jake Pantone, Enve's VP of Product and Consumer Experience "Consumer feedback consistently identifies hub reliability as a number one priority when considering their next hub set. For this reason, we nixed the ceramic bearings and opted for custom stainless steel bearings and races that not only roll smooth on day one, but have proven to maintain that performance for thousands of miles without service."
It has also redesigned the hub axles, which now include Enve's own bearing preload system. If bearing preload isn't handled correctly, it can cause premature wear of the hub. Enve's system looks to solve this by using a calibrated wave washer, which maintains consistent tension on the bearing for the service life of the hub.
>>> Best road bike wheelsets reviewed
Pantone says: "We are confident that the new Carbon Road Hub challenges the best hubs on the market in the contest for drive stiffness, reliability, weight savings, and durability."
You can buy Enve's new Carbon Road Hub as a stand-alone pair for $1000 or incorporated into its flagship SES rim brake wheelsets for $3000 (UK pricing TBA).
Enve notes that this is actually a reduction in price from its previous generation hubs and wheels, while allowing it to take full control of the manufacture of critical wheel components.
Thank you for reading 5 articles this month* Join now for unlimited access
Enjoy your first month for just £1 / $1 / €1
*Read 5 free articles per month without a subscription
Join now for unlimited access
Try first month for just £1 / $1 / €1