New MET Trenta 3K carbon helmet spotted at the Tour de France
New Met Trenta 3k carbon helmet spotted on the heads of UAE and Dimension Data riders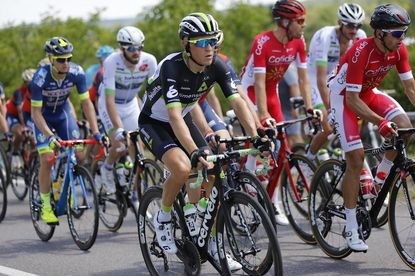 (Image credit: Yuzuru SUNADA)
MET has released its brand new Trenta helmet for its pro athletes at UAE and Dimension Data to ride at the Tour de France, promising better performance than any other helmet currently on the market.
This bold claim is due to the 3k carbon used in the helmet's make up, which MET claims allows it to reduce the density of the EPS foam used in the rest of the lid, without affecting its capacity to absorb energy in crashes.
>>> Best kids' bike helmets: a buyer's guide
According to MET, the use of carbon also helps reduce the weight, claiming a 20 per cent reduction in the weight when compared to a traditional construction.
Still, at 215g, it isn't as light as the new Kask's Valegro helmet, which weighs a claimed 180g, and it only has 19 vents whereas the Valegro has a whopping 36 to help keep riders cool.
However, what it lacks in vent number, it is clearly trying to make up for in vent technology.
The side vents were originally developed by NACA (which also inspired the tubing on Lapierre's new Aircode), and it supposedly helps push the warm air out without catching or generating drag.
Watch: Helmet buyer's guide
The rear is also quite impressive, with deflectors helping ventilation and a tube-shaped tail to minimise drag.
>>> 10 of the best deals on bike helmets available right now
Curiously, MET has also worked to minimise head contact with the helmet. Supposedly, only 30 per cent of your head will be in touch with it at any one time. That extra 70 per cent helps aid ventilation by creating airflow.
The helmet has already been used by MET's professional teams, including Dimension Data and Mark Cavendish as well as the UAE pro team.
Thank you for reading 20 articles this month* Join now for unlimited access
Enjoy your first month for just £1 / $1 / €1
*Read 5 free articles per month without a subscription
Join now for unlimited access
Try first month for just £1 / $1 / €1