New Quarq DFour91 power meter: more accurate and specific to Shimano Dura-Ace R9100
Quarq has released the Quarq DFour91 power meter, as well as a new Quarq DZero power meter, extending its support for Specialized S-Works carbon cranksets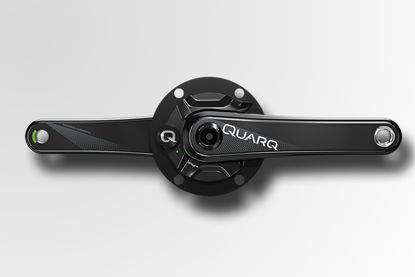 SRAM's sister company Quarq has released two new power meters and extended its support for Specialized's S-Works carbon crankset, updating the Quarq DZero power meter.
An update of the Quarq DFour, the Quarq DFour91 is brand new and designed especially for Shimano's Dura-Ace 9100 series.
>>> Quarq Riken 10R power meter
According to the American company, it's a bolt on upgrade which pairs will the 11-speed Dura-Ace R9100 chain rings.
Whereas the old Quarq DFour power meter was compatible with Dura-Ace 9000, Ultegra 6800 and 105 5800 chain rings, the new DFour91 is specific to Shimano Dura-Ace 9100 series only at the mo, with Quarq saying it's yet to test the new kit on the new Ultegra 8000 series.
SRAM claim that both new power meters have an accuracy score within 1.5% when measuring both legs and they're both AxCad, which means no cadence magnet is required.
The brand also says both are OmniCal, which basically means you should be able to swap chainrings without affecting accuracy.
Watch: critical power - the hardest test you can do on a bike
While the power meter is a bolt on, you can also buy the power meter chassis, which comes with Quarq's lightweight, sturdy Exogram carbon crank arms. However, bear in mind that it's only compatible with a SRAM bottom bracket.
Following this, SRAM has also extended its support for Specialized's S-Works carbon crankset. The new DZero spider is designed to replace the factory spider as specced on Specialized's own S-Works crankset.
It's a traditional 5-arm spider which is compatible with Specialized's S-Works carbon cranks from 2013-2017, and it's available in 110BCD and 130BCD.
>>> Specialized S-Works Venge ViAS Di2 review
SRAM says that both the new power meters embody 10 years of Quarq advances in power meter technology and include all the latest top tech including Bluetooth low energy as well as ANT+ wireless data transfer.
"We've packed a long list of technology advances – 150 documented iterations – into the DZero platform. Riders love the platform, and we want to make it widely available," said Jim Meyer, founder of Quarq. "We're excited to offer these two new models."
SRAM also claims that the 200 hour batteries are easy to replace, which will come as a relief to hardened power meter users, plus they get an IPX7 waterproof rating and a two year warranty.
Both new power meters are available right away through Quarq's distributors and dealers.
Thank you for reading 20 articles this month* Join now for unlimited access
Enjoy your first month for just £1 / $1 / €1
*Read 5 free articles per month without a subscription
Join now for unlimited access
Try first month for just £1 / $1 / €1