Riding the new Kona Rove NRB gravel bike in southern Spain
We rode Kona's new all-terrain machine at the launch event near Malaga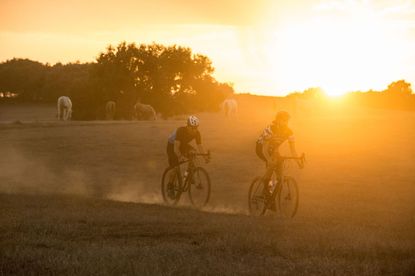 (Image credit: geoff waugh)
Photos: Geoff Waugh/Kona
Kona has always done things a bit differently. Its Rove steel framed bike has been around for years and been loaded up to take its riders on long distance adventures on and off road.
This year, Kona has added to the Rove range with the new Rove NRB. It's an alloy framed bike that uses a new all-carbon fork, shared with the updated 2018 Jake cyclocross range. Both frame and fork have plenty of clearance for 650b wheels with 47mm tyres. It's designed for the increasing number of riders who want to ride their road bikes off tarmac as well as on.
The Rove NRB's bottom bracket shell is forged in two parts, with a weld in the chainstay, allowing Kona to provide the clearance needed for wide tyres and still fit the frame with either two ring or single ring chainsets.
Although they have only a slight file tread, the WTB Horizon tyres worked really well on the sandy Spanish tracks north of Gibraltar. A big advantage of such wide tyres is that they have a really large air volume and so can be run tubeless at low pressures.
This gives great roll-over on bumpy trails, as well as a large contact patch that prevents them getting bogged down in loose sand and adds extra grip. They're surprisingly quick on tarmac too, where that ability to smooth out bumps is also an asset.
The Rove NRB comes with an FSA Omega Adventure 48/32 supercompact chainset and Shimano Tiagra 11-34 cassette, so there's plenty of low range to keep up a higher cadence on loose, steep off-road. This was useful in the dry conditions of Spain and is likely to help in damper UK conditions too.
Kona says that you can run 47mm 650b tyres with mudguards on the 23mm internal width rims, or 700c wheels with tyres up to 40mm wide. The newly designed drop-outs have eyelets for mudguards and racks and there are mudguard eyelets in the all-carbon tapered fork too. As you'd expect, the whole set-up is tubeless ready and runs on thru-axles.
Although there's no extra provision for bikepacking, you can fit internal frame bags and there's a third bottle cage mount under the down tube. Price for the Rove NRB is £1599.
Rove range expands to six models
As well as the Rove NRB, there's a new Rove NRB DL equipped with Shimano Ultegra/105 mix, hydraulic brakes and a 50/34 compact chainset, priced at £1999. The top of the Rove range is the new £3499 Rove LTD. Made from Reynolds 853 steel tubing, it has a SRAM Force 1 groupset with 40 tooth chainring and 10-42 cassette.
Elsewhere in the 2018 Rove range, the £1399 steel frame/steel fork Rove ST now gets thru-axles rather than quick releases, while the older alloy Rove at £699 and Rove DL at £899 continue. More details on Kona's website (opens in new tab).
The Rove ST has huge amounts of clearance front and rear and will take 650b wheels with wide tyres, as well as sporting mounts for front and rear racks for go-anywhere bikepacking duties.
And the £1299 Sutra touring bike and £1999 Sutra LTD continue, but again updated with thru-axles and flat mount disc brakes. Being based on MTB standards, there's a 73mm bottom bracket shell giving very wide tyre clearance – the Sutra LTD comes with 50mm tyres and will take MTB tyres up to 2.3 inches. And you get front and rear mounts for touring use too.
Thank you for reading 5 articles this month* Join now for unlimited access
Enjoy your first month for just £1 / $1 / €1
*Read 5 free articles per month without a subscription
Join now for unlimited access
Try first month for just £1 / $1 / €1