Santini Beta jackets are designed for cool, wet or cold riding
The autumn/winter 2017 Santini Beta range includes three different weight jackets to handle a variety of conditions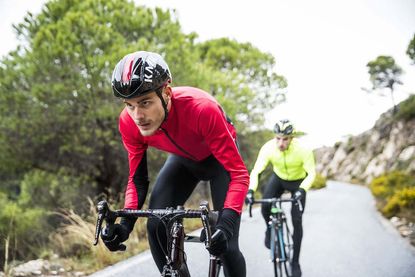 (Image credit: Beardy McBeardy)
Santini is prepared for the change in the season with its newly expanded Beta range. Designed to take on cooler, windier and damper conditions, there are three different weight jackets available.
First up is the Beta Light. Called a jersey rather than a jacket, it's a slim fit, short sleeved piece made of lightweight Windstopper 187 fabric. The sleeves extend down to the elbow for a bit more coverage than a standard jersey, but there's also a lighter stretch fabric under the arms and fleece fabric on the lower back. There's a wide flap behind the zipper to keep out the wind and some built-in rain resistance.
Santini says that the Beta Light will keep you warm at temperatures between 10C and 15C, but with enough breathability that you'll be comfortable at warmer temperatures too. There's a long drop to the rear to make sure that you don't get a cold breeze or wheelspray when riding. Price is £130.
For wet conditions, the Beta Rain jacket is made of lightweight Windstopper San Remo fabric and designed to tackle cooler conditions down to 5C. It's a development of last season's Beta jacket, but Santini says that it has improved the fit and warmth.
As well as wind resistance, there's rain protection from the fabric and Santini has added a double cuff and drain holes to the rear pockets. The Beta Rain is priced at £140.
Once it gets seriously cold, the Beta Winter jacket comes into play. Santini says it's good for temperatures from 5C right down to -8C. It's made of Windstopper Fuga, an insulated and water resistant but breathable fabric. Again, the fit is slim. You get a fourth zipped pocket for valuables too. Price is £160. There's a women's version of the Beta Winter too, priced at £140.
All the Beta jackets come in black, red or yellow and feature reflective elements.
Thank you for reading 20 articles this month* Join now for unlimited access
Enjoy your first month for just £1 / $1 / €1
*Read 5 free articles per month without a subscription
Join now for unlimited access
Try first month for just £1 / $1 / €1