Sub-kilo tubular wheelset launched by Hunt in time for hill climb season
Developed and tested along with national hill climb champion Dan Evans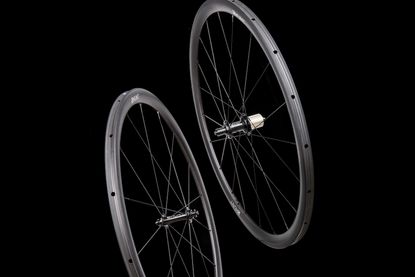 The new Hunt Climb SL Tubular wheelset comes with a claimed weight of 991g. That's 424g for the front wheel and 567g for the rear. It's Hunt's lightest ever wheelset and designed specifically for the hill climb season.
Hunt has paired up with current UK hill climb champion Dan Evans to help develop and test the wheels. Evans told Hunt: "First ride on the new tubulars last night and they're seriously impressive. Obviously they're lovely and light but the main thing that comes across is how stiff and solid they feel, nothing like other climbing wheelsets on the market that's for sure."
>>> Clinchers, tubulars or tubeless: which tyre system is the fastest?
There's a full interview with Evans and a spec check of his hill climbing bike on Hunt's site.
Hunt says that the 23mm wide, 30mm deep high modulus carbon rim weighs just 280g. It's laced with extra-light Pillar Megalite bladed spokes, 16 front and 20 rear, to Hunt Sprint SL alloy hubs with alloy axles. Lacing is two-crossed drive side, with non-drive rear and the front wheel all laced radially. Freehub engagement angle is just 7.5 degrees for rapid take-up. You get titanium skewers too.
Hunt says that the carbon fibre used in the Hunt Climb SL Tubular wheel rims makes them less heat and impact resistant than its Carbon Wide Aero wheel range, which would be more suitable for general riding. It also cites a rider weight limit of 78kg and says that riders over 70kg should get the wheels looked at regularly by a mechanic.
>>> What's the perfect BMI for a cyclist?
Price for the Hunt Climb SL Tubular wheelset is £1089, with delivery scheduled for the first week in September, just in time for the start of the 2018 hill climb season.
Thank you for reading 20 articles this month* Join now for unlimited access
Enjoy your first month for just £1 / $1 / €1
*Read 5 free articles per month without a subscription
Join now for unlimited access
Try first month for just £1 / $1 / €1