Swift Carbon Ultravox RS-1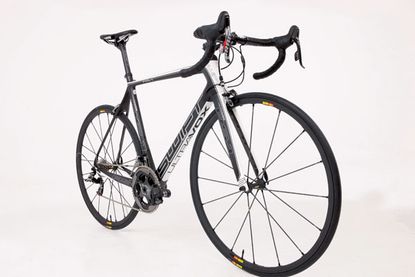 Carrying the same blueprint as the range-topping Ultravox Ti, the second-in-line RS-1 is constructed from a slightly different combination of carbon, using high modulus T700 and T800 fibre.



While lighter and stiffer T1000 fibre is reserved for the Ti model, the RS-1's claimed weight of 1,050g for a small frame is far from shabby and its cheaper weave will save you in the region of £500 on a frameset, giving a £1,800 list price.
Side on, the stiff chainstays look beefy, but are actually slender enough to give sufficient room to run 25mm tyres. Another element of versatility is the frame's ability to take either a mechanical or electronic groupset and related cabling options.
As we discovered when we tested the Ti last year, the frame geometry has a slightly slacker head angle and longer wheelbase than current race bike frame conventions, leading you to believe the end result will be a 'sporting' bike.
While it should deliver stability at speed, and predictable handling, don't for one second think it's not a race machine. Its short head tube, and boxy oversized BB, along with a shiny UCI approval sticker means leisure cyclists need not apply.
Available in size XXS to XL - frameset (including headset) only.
Dedication to the cause...
As Swift Carbon is based within riding distance of its Chinese manufacturing facility, it finds itself in quite a unique position for a small bike brand - by developing and using its own carbon moulds.
Not only does this mean that Mr Swift Carbon, aka ex-professional rider Mark Blewett, retains 100 per cent control of design, carbon, resin and manufacturing processes; but also that framesets are exclusive and not a cloned factory special stickered with Swift Carbon decals.
Contact www.c3products.com
Read Cycling Weekly magazine on the day of release where ever you are in the world International digital edition, UK digital edition. And if you like us, rate us!
Thank you for reading 20 articles this month* Join now for unlimited access
Enjoy your first month for just £1 / $1 / €1
*Read 5 free articles per month without a subscription
Join now for unlimited access
Try first month for just £1 / $1 / €1