Tacx Magnum – first ride impressions of the cycling treadmill
The humble turbo trainer revolution continues, bringing a new age of smart training, of which the latest result is the Tacx Magnum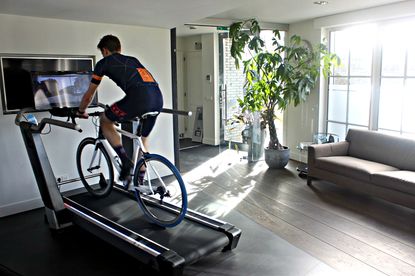 At the forefront of this revolution has been Tacx, which has come from humble beginnings to now dominate the turbo trainer market. First came the Tacx Neo Smart, and now the Tacx Magnum, the brainiest turbo of them all.
What is the Tacx Magnum?
Put basically, it's a treadmill for a bike, but this machine is anything but basic, and it's exceptionally fun.
But this product is more than a laugh, it's a highly technical piece of training apparatus. It's the evolution of old school rollers, but much less affordable, and much, much larger.
However, Tacx has put a lot of work into getting it into shape. The idea came about after they saw something similar at a trade show many years ago.
Granted, it was an attempt that never saw the light of day, but the idea nagged in the minds of the Tacx family, eventually becoming something of a pet project for the company. It's more of an ambition and a status of "prestige" as Simon Tacx, third generation Tacx family member put it.
In fact, the company hasn't even conducted any market analysis on the Magnum, and Simon Tacx freely admits he has no idea if the product will sell. Instead, he's content knowing that it has been possible with the project seeing the light of day.
Like the Tacx Neo before it, the Tacx Magnum is all about adding ride quality to an otherwise boring indoor ride, and impressively, the treadmill is actually the simplest part of the Tacx Magnum equation. The technology goes far deeper than that.
For starters, the Magnum includes sensors that automatically increase or decrease the speed of the machine depending on where your bike sits, it's a safety feature that saved me more than once in my trial ride.
Then there are a line of lights along the side that guide you, and if you advance out of the red section it automatically speeds up and if you start to slide off the back it slows down. Thankfully, it'll immediately stop should you start hurtling out of the back door.
Next, there's the built in computer and 32" TV screen that will ship with the finished product. Also pre-programmed is Tacx's own app as well as the many films of famous rides and stages you can compete on. Similarly, it has pre-set workouts, or you can upload your own.
Even better for those into multi-sports, you can even run on it like a normal treadmill. In fact, according to Simon, it was the running element that was the hardest to pin down. Apparently, the force at which a foot hits the treadmill is much harder than a wheel and causes disruption in the internals of the machine.
Is it hard?
I was told that it was much like riding a pair of rollers, just with more fore and aft movement. So I imagine those used to riding on rollers will be fine. However, those like me who have never experienced them will struggle to begin with.
Something I hadn't considered before jumping aboard is how every wobble would be exaggerated. In fact, it's about as close as I reckon I'll ever come to re-learning how to ride a bike.
The little things are tough, like removing your hand from the rail takes nerve to begin with. But slow and steady wins the race, and within 10 minutes I was riding on the bars, and within 15 I'd mastered gear changes, and had my body movements under control, sitting in the middle of the treadmill.
Suddenly, I was taken aback when my front wheel start rising skywards, before I realised I must have been heading up hill. It quickly became a scrabble to drop gears to keep pace.
It's a strange sensation; instead of decreasing speed like you were edging your way uphill you find your legs turning quicker than ever before, but you're working just as hard.
If you haven't mastered gear changes by this point it'd definitely become interesting.
Even more exciting though is when things start going downhill. It's at this point you need to have become an accomplished treadmill descender, coping with the high speeds through a combination of free wheeling and gear shifting.
What's the software like?
Tacx has long used its own software in their smart trainers, including films made from footage shot from a car of famous climbs and stages from the cycling world.
I can see it being a good way to keep you going, even if it is a little clunky, and Tacx happily admit that it's not as finessed as likes of Zwift.
The in film details are a little slim. Given how difficult it is at first to adjust to downhill sections, I'd like to have seen a more in depth profile, allowing advanced warning if your wheel is about to head skyward or downwards.
That said, it does come with all the gubbins you'd expect from a training system. It's ANT+ or Bluetooth compatible so your heart rate monitor, power and cadence systems can appear directly on the screen.
Plus, you can link it up to Zwift and race your mates wherever they might be. You can even plot your own routes on Google Maps and then ride them.
Sure, it's tough to get used to and its enormous, but it's also really fun, and without a doubt an innovative product, even if it never sells particularly well. It's the ultimate in indoor riding.
Thank you for reading 10 articles this month* Join now for unlimited access
Enjoy your first month for just £1 / $1 / €1
*Read 5 free articles per month without a subscription
Join now for unlimited access
Try first month for just £1 / $1 / €1