Time triallists rejoice as UCI relaxes saddle regulations for 2016
Latest rule change allows for greater tilt and longer saddles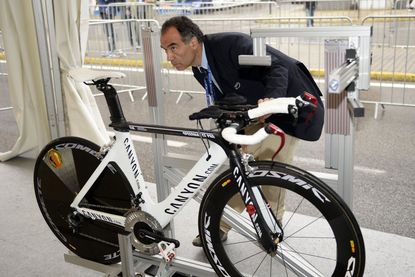 (Image credit: Watson)
After fully introducing disc brakes into the professional peloton last week, the UCI has made another slightly smaller change to its technical regulations, relaxing rules regarding saddle tilt and length.
>>> Sandpaper saddle injury adds to pain of Tony Martin's World Championships defeat
Previously the technical regulations had stated that the tilt of the saddle must be "less than 2.5 degrees with an error of tolerance of 0.5 degrees". However the updated regulations, which come into force from 1 January, will allow up to nine degrees of tilt with a one degree margin for error, potentially allowing the riders to have their saddles pointed downwards at an angle of 10 degrees.
>>> What disc brake bikes will the pros be riding in 2016?
The other change to the rulebook is in relation to saddle length. Although the maximum length allowed for saddles remains at 300mm, the governing body is introducing a 5mm margin of error. Speaking to Bicycle Retailer and Industry News, Dave Schindler of ISM saddles explained the implications of this change.
Buyer's guide to road bike saddles
"You train on a saddle for six months and it can flatten out. During the pre-race inspection one commissar will let it go, but during the final race inspection, sometimes minutes before a start, another commissar will rule it illegal. That has been a problem."
>>> Saddle height: how to get it right and why it's important
However it has been the rule regarding saddle tilt that has come in for the most criticism, particularly when UCI commisaires suddenly implemented the widely-ignored regulation at the 2011 Tour de France. This move prompted widespread unrest, with then Radioshack team manager Johan Bruyneel calling the checks "an embarassment to the sport".
The relaxation of the saddle tilt rule will surely come as a relief for riders during long time trials, such as the 37km stage in this year's Tour, where riders have previously complained of pain and numbness in sensitive areas after extended periods in the time trial position.
Thank you for reading 20 articles this month* Join now for unlimited access
Enjoy your first month for just £1 / $1 / €1
*Read 5 free articles per month without a subscription
Join now for unlimited access
Try first month for just £1 / $1 / €1