UCI defends its stance on tilted saddles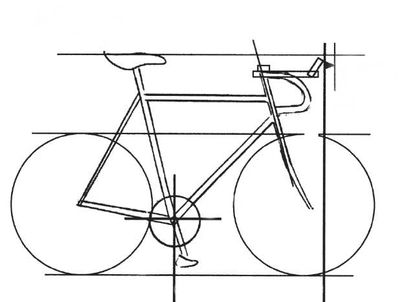 The Union Cycliste International (UCI) has reinforced its position on riders' saddle orientation following their decision on the day of the Tour's team time trial to implement the rule that all saddles must be exactly horizontal.
Having a horizontal saddle is written in the UCI's rules and regulations, but when they enforced it in Les Essarts several teams reacted angrily, two of whom were subsequently fined for their behaviour.
Julien Carron, the UCI's Tecnical Coordinator explained the issue to Cycling Weekly, saying the tilt on the saddles of some bikes was obvious. "If the riders had their saddles tilted only one or two degrees off of horizontal, the commissaires would never have noticed this angle," he said.
"The reason why entire teams tilted the saddles is clearly to improve the lumbar support, and there is a huge difference on the energy transmitted to the pedals due to action-reaction forces," Carron explained.
"For the fairness in competitions and to avoid disadvantaging rule-abiding riders, the saddles should be horizontal for everybody. It is the exact same situation for the horizontal position of the forearms during time trials or the position of the peak of the saddle 5 cm to the rear of the axis of the bottom bracket."
"All these rules were written to enforce the Lugano Charter: 'The real meaning of cycle sport is to bring riders together to compete on an equal footing and thereby decide which of them is physically the best.'"
Cycling Weekly also suggested that Cadel Evans' new time trial frame was a pre-production model and therefore shouldn't have been used in competition. However, Carron says the Swiss company rushed the frame through the governing body's approval process. "The new TT frame from BMC was approved and is on the List of Approved Frames and Forks." Carron said.
"The frame has not yet a label on it as it was approved a few days before the Tour de France, and we informed the commissaires of the situation. As the approval procedure is new, that kind of situation can happen at the beginning but will disappear over time."
Thank you for reading 5 articles this month* Join now for unlimited access
Enjoy your first month for just £1 / $1 / €1
*Read 5 free articles per month without a subscription
Join now for unlimited access
Try first month for just £1 / $1 / €1