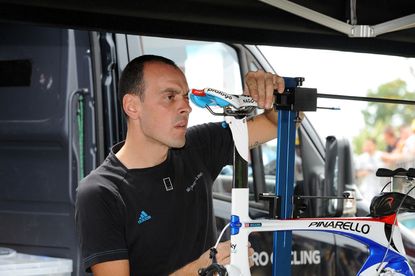 The Union Cycliste International (UCI) commissaires once again clamped down on the teams and their bikes on Sunday, this time picking on the orientation of the saddles on riders' time trial bikes.
The Commissaires checked everyone's bikes and enforced rule 1.3.014 that states; 'The saddle support shall be horizontal'. Several saddles were found to be tipped forward a couple of degree and had to be adjusted to be exactly horizontal.
Forcing mechanics to adjust a rider's position minutes before riding a Tour time trial was never going to go down well and a heated debate ensued. So heated that RadioShack's Johan Bruyneel and Saxo Bank's Bradley McGee were fined 200 Swiss francs each by the race jury.
On Monday the UCI sent out a press release saying 'they will not accept the uncalled for behaviour from Mr Johan Bruyneel and Mr Jonathan Vaughters.'
Bruyneel later wrote on his personal blog:
The UCI decided today that they would bring a different interpretation of a rule pertaining to the TT bike saddle position. Mind you that riders have been using this exact same position throughout the year.


As you can imagine, this inconsistency in rules did not sit well with mechanics, team managers and bike sponsors, which led to an unprofessional spectacle in front of everyone to see - An embarrassment for our sport.



As the UCI has a history of doing, they decided to handle the situation by fining me and Bjarne Riis 200 Swiss Francs for what they deem incorrect behavior (and what I would deem as pointing out inconsistencies in rules).
This is the second time a technical regulation has been enforced on the day of a big race. At the Giro d'Italia several TT bikes with SRAM's new levers broke the crude 750mm rule (1.3.023), and TT bars had to be cut down in the minutes before the opening team time trial.
Why were the UCI throwing a spanner in the works, on race day, just to have rider's saddles horizontal?
Actually it wasn't such a last minute decision. Monday's press release stated they had told the teams these rules would be enforced at the Sport's Directors meeting at the Critérium du Dauphiné in June, and had sent out a letter to the teams ahead of this.
They also sent a second letter to the teams ten days before the Tour de France, accompanied by a document providing technical rule reminders.
Team Sky's Principal Dave Brailsford confirmed the teams had been warned, which is why they went to the start of the TTT in Les Essarts an hour and a half early and went through the same thorough checks the British team do with the track bikes.
In fact it wasn't just rule 1.3.014 that was enforced, it was also rules 1.3.004 and 1.3.008. The first of those two rules relates to technical innovations not being used unless they are first approved by the UCI, the second relates to the points of support on a bike.
Rule 1.3.008: The rider shall normally assume a sitting position on the bicycle. This position requires that the only points of support are the following: the feet on the pedals, the hands on the handlebars and the seat on the saddle.
This rule, in relation to the horizontal saddle is key. It seems that the UCI believe that by tipping the saddle of a TT bike forward (the rule has never been enforced on standard road bikes) the rider turns their forearms - that are resting on the tri bar pads - in to support points.
In Technical Regulations for Bicycles, released in 2000, the UCI further states: Bicycles may be fitted with an 'additional handlebar upon which elbow or forearm rests are authorised without those representing supplementary points of support.'
Using the forearms, which incidentally should also be horizontal when the rider is on their tribars, as points of support could raise saftey issues. But the issue is the UCI enforce their rules so erratically, and on such key days that it raises the ire of the teams.


Missing the point
Unfortunately for the commissaires, as they were busy checking the everyone's saddles were perfectly flat they missed at least half a dozen frames that were pre-production models and a host of prototype wheels.
None of which should have been ridden at all.
At the end of 2010 the UCI published the details of its new approval scheme that came in to force on January 1 this year. This scheme, that saw all new bikes checked by the UCI and issued with a sticker, meant that any frame that wasn't already in production at the beginning of the year would have to go through the new protocol before it could be ridden in a UCI event.
Cadel Evans' BMC TM01 time trial bike (pictured below) was a brand new model and was not in production by January 1. It's due to be launched later this year and will be in their product range for 2012. And it didn't have a sticker on.
The new BMC TM01 that Cadel Evans rode for Sunday's team time trial
Neither is the bike currently for sale, the TT01 advertised on BMC's website is a completely different model (see below) without an integrated front brake caliper, a different stem set up integrated seat pin and different chain stays.
The BMC TM01 currently for sale
As well as the approval stickers a bike has to be 'marketed or marketable. Prototypes and the use of equipment specially designed for a particular athlete is prohibited.' Again as stated in Technical Regulations for Bicycles.
But BMC weren't the only ones obviously flouting this rule. Five riders, including Richie Porte were riding the new Specialised SL4 that isn't available to buy while several Katusha riders were riding custom Focus bikes made especially for them.
It wasn't just bikes either, our mole reckons that every set of Mavic wheels he saw at the Tour last weekend were pre-production models.
There were at least two manufacturers playing by the rules. Ivan Basso's Cannondale bike had a sticker on, while we saw another on a Pinarello. The first ones we've seen.
Ivan Basso's Cannondale
Related links
UCI bans Bont crono shoe
UCI threatens to ban Britain's track bikes
External links
Thank you for reading 10 articles this month* Join now for unlimited access
Enjoy your first month for just £1 / $1 / €1
*Read 5 free articles per month without a subscription
Join now for unlimited access
Try first month for just £1 / $1 / €1
Editor of Cycling Weekly magazine, Simon has been working at the title since 2001. He fell in love with cycling 1989 when watching the Tour de France on Channel 4, started racing in 1995 and in 2000 he spent one season racing in Belgium. During his time at CW (and Cycle Sport magazine) he has written product reviews, fitness features, pro interviews, race coverage and news. He has covered the Tour de France more times than he can remember along with two Olympic Games and many other international and UK domestic races. He became the 130-year-old magazine's 13th editor in 2015.