Use your phone as a cycling computer with the latest Strava update
You can now convert your smart phone into a GPS cycling computer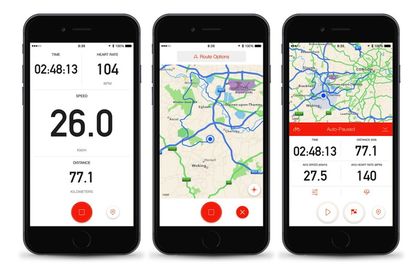 Lots of people run using their smart phone as a training aide, why not do something similar when cycling?
We've got all the info on the new iPhone 9 from Apple
Further to announcing the new Strava Live Segments which can be used with the Garmin 520, Strava has launched Strava Live.
>>> Six underhand ways cyclists make their Strava rides look better
According to Strava, by using Strava Live you can effectively convert your smart phone into a GPS cycling computer. For some this could be an appealing alternative to having to splash out on a separate cycling specific GPS computer.
To access Strava Live you will need to use Strava's latest iOS or Android mobile apps (available from the App store and Google Play). Once installed and riding you will be able to see live activity averages on your phone, for example your average speed, pace and distance. However, if you want to see real time current metrics and be able to view data from paired ANT+ devices (for example cadence meters and heart rate monitors) you will need to upgrade to a Strava Premium account.
In addition to the metrics, Strava says you can customise your settings. For example, you can control the brightness of the screen and keep an eye on the battery life by adjusting the screen dimmer and using the optional always-on display respectively.
It will be interesting to see how much, if at all, Strava Live impacts the number of GPS devices that are purchased.
As said above, to experience the full benefits of Strava Live (i.e. real time current metrics) you will need to be a Strava Premium subscriber. A Premium account costs £3.99 a month or £39.99 a year.
For more information go to Strava. (opens in new tab)
Thank you for reading 10 articles this month* Join now for unlimited access
Enjoy your first month for just £1 / $1 / €1
*Read 5 free articles per month without a subscription
Join now for unlimited access
Try first month for just £1 / $1 / €1