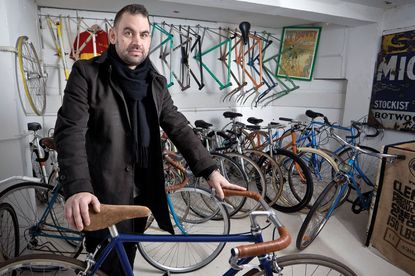 The world of bicycles — grubby, oily, sweaty — would be hard to reconcile with the genteel world of antiques, but in many ways 40-year-old Adrian Carter and his company Vintage Haus is very nearly doing it.
"I worked in publishing for four years, but I was always coming home from the office and tinkering with bikes and cars, rebuilding, restoring and stripping things down," Carter said.
"I started selling bike frames and parts on eBay part-time and realised I quite enjoyed it.
Then in 2010 I decided to make it a full-time job. I launched Vintage Haus, got myself a business premises in Finsbury Park and went from there.
"I started building up second-hand bikes. I had several trips aboard to France and Belgium picking up exotic racers and unusual vintage stuff. My first full build was a 1950s Motobecane ladies' mixte, which I found in a French market.
It was ratty, so I stripped it down, disposed of all the offending hardware and flogged some of the parts. Then I had it powder coated olive green, and built it up as a punky singlespeed with some Deep V rims, a nice Brooks saddle and Brooks bar tape.
"I did that one for a bit of fun, put it on my website and ended up taking an order from a guy in Japan. From there people just wanted more," Carter said.
Although he has a supply of ready-built retro wonders, Carter also builds bikes to order. "People approach me to build them a bike to their own spec. Sometimes they just let me go wild and do my own thing, which is what I like doing," he says.
"The most exotic build I've done was a 1970s Colnago frame, which I had powder coated. I'm always looking out for decent Italian frames but they are extremely hard to get hold of at a reasonable price. I've also currently got a rare 1970s Carillo, with Reynolds tubing, for sale."
But how does Carter find them? "I've been doing it so long people tend to approach me and offer me stuff. I get some things from other dealers, bike jumbles or the good old internet.
"I import a lot of stuff, too — I'll buy exotic stuff from abroad. Somebody may ask me for a specific size of bike frame to build a lightweight machine, so if I see something exciting on the internet in Italy or France I'll buy it and build it up to order.
"For example, I recently did a Garlatti build for a friend — it was a purply-blue with white-wall tyres, a beautiful Grand Cru Plume Alaire chain guard and some old Campag brakes."
There will always be one major difference between Vintage Haus's products and antiques, though — the objets de vélo that Carter sells aren't meant just for looking at — they're meant to be used.
"I'll restore or repaint the frame and then I'll fit all-new working parts, so they look like old-school bikes, but they work like brand new bikes. If I was to see an interesting old bike lying around somewhere unused, I would far rather it was fixed up and used — even if that means not necessarily fitting the parts that purists would consider correct — than it not be ridden."
Contact: www.vintagehaus.co.uk
Thank you for reading 10 articles this month* Join now for unlimited access
Enjoy your first month for just £1 / $1 / €1
*Read 5 free articles per month without a subscription
Join now for unlimited access
Try first month for just £1 / $1 / €1