Park Tool's Master Kit has 268 tools, and it's a thing of beauty
Bet you can't name them all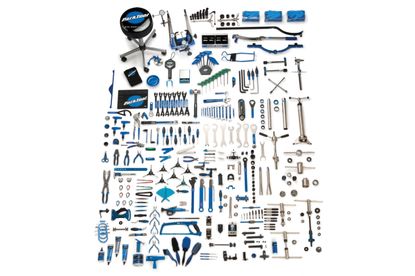 Park Tool has updated its Master Tool Kit for 2017 and it's a thing of beauty.
The kit contains all the tools that you need to open a shop, be a professional mechanic or become the ultimate home bike fixer.
In total, it contains a mind-boggling 268 "shop quality" tools, and will set you back over £6000.
>>> How to adjust your front and rear derailleurs (videos)
Ok, so it's basically a bike shop in a box, and contains more tools than any of us would probably ever need, but who doesn't dream of a gleaming workshop full to the brim of brand new tools?
It's quite similar to its slightly smaller sibling, the Base kit (which itself contains 254 tools), but both of them dwarf the rest of Park Tool's range. They both also feature frame tapping kits and the Master kit features a bottom bracket facing kit.
Watch: how to realign a rear derailleur hanger
Other tools bespoke to the Master set include a 57mm and 65mm Facing Cutter, Centering Cone Adapters, a 33.9mm Reamer (huh?) and your classic 55,9mm Pilot for HTR1 – we're sure you couldn't live without any of them.
Last year's Master Mechanic Tool Kit hit the market at the eye watering price of £6,999 and featured 257 tools. Of course, it's probably a much cheaper way of buying your tools rather than as and when you need them.
Thank you for reading 10 articles this month* Join now for unlimited access
Enjoy your first month for just £1 / $1 / €1
*Read 5 free articles per month without a subscription
Join now for unlimited access
Try first month for just £1 / $1 / €1