Wiggle launches own-brand sports nutrition range
Retailer launches energy gels and electrolyte tablets, with energy bars due to be released later in year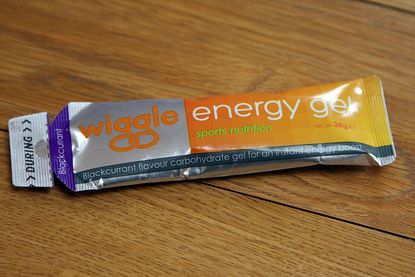 (Image credit: Nigel Wynn)
Online sports retailer Wiggle has announced the launch of its own range of sports nutrition to coincide with the arrival of the Tour de France.
Wiggle's own brand caffeinated and non-caffeinated energy gels, and low calorie hydration tablets, are already on sale, with the launch of energy bars planned by the end of the year.
The announcement comes on the heels of news that nutrition brand SiS (Science in Sport) saw a year-on-year growth of 24% in March, reflecting the increasing popularity of sports nutrition in leisure cycling.
Christina Lindquist, Wiggle's marketing manager, said: "We worked closely with athletes from a range of sports to create gels that taste great, are absorbed quickly to give an instant and long-lasting energy boost and are priced to give unbeatable value."
The new Wiggle range, which is all suitable for vegans, includes 38g caffeinated energy gels, with 30mg caffeine in blackcurrant, and non-caffeinated gels in blackcurrant and orange, both delivering 22.6g carbohydrate, 20 for £14.49. The gels also contain 120mg electrolytes. The low calorie electrolyte tablets contain 6.6kcal per tab diluted with 500ml water, 20 for £2.99 in blackcurrant and lemon.
For comparison Hi Five Zero electrolyte tablets, with 1.4kcal per 100ml, are dissolved in 750ml water, offering 30% more drink per tube than Wiggle's. However, Wiggle sells its own brand electrolyte tablets at for £2.99 for 20, Hi Five at £3.99, making the two identical in value.
In July Wiggle will launch a ready to mix carbohydrate energy drink in orange and blackcurrant, and a high protein and carbohydrate recovery drink in chocolate and strawberry. Consuming protein in any form within 30 minutes post-exercise has been shown to aid muscle recovery and growth.
In 2013 Wiggle, which started life as a bike shop in Portsmouth in the 1920s, supported 96 events and became the title sponsor of UCI ladies pro cycling team Wiggle Honda. The company also has its own clothing brand, dhb.
Wiggle has placed its own brand among 22 other sports nutrition brands, including SiS, Torq and Mulebar.
The Australian Institute of Sport recommends 30-60g of carbohydrate intake for every hour spent exercising, which can be taken in the form of sports drinks, gels, cordials or juices, jellybeans or a jam sandwich.
Thank you for reading 20 articles this month* Join now for unlimited access
Enjoy your first month for just £1 / $1 / €1
*Read 5 free articles per month without a subscription
Join now for unlimited access
Try first month for just £1 / $1 / €1