Zwift launches new 'group workout' feature so you can train together
Popular virtual online training platform Zwift has now launched a new group workout tool that allows you to train with others in a group, regardless of riders power output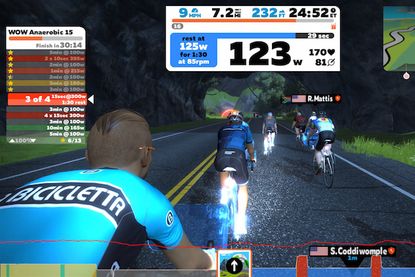 Despite having 1,500 users riding at any one time, finding a group to ride with on Zwift can be a tough task, especially as abilities can be so wildly varied at times. However, Zwift hopes to solve this issue with its latest feature.
>>> Zwift: Everything you need to know
Group workouts allow Zwifters to register for a group ride online using the Zwift Mobile Link app, which is a similar setup to the race or group ride events already available on the platform.
What is different here though, is that all riders train to the same effort level. This is based off your FTP (functional threshold power) and means no matter the power output of others the group is kept together as long as you are pedalling. A push to make structured training more social and motivating, according to the American brand.
The idea is to bring a more social and motivation aspect to the online platform says Eric Min, Zwift CEO and co-founder.
"Group Workouts really opens up Zwift to the masses. Now all ages and ability levels can train together for the first time, whether you're a WorldTour Pro or a recreational cyclist. This is about delivering quality and convenient social training experiences to people at home.
"We're taking the motivation of the spinning experience and fusing it with structured training content created by world class coaches."
Former pro Greg Henderson shows how the group workout feature works in the below video.
https://www.youtube.com/watch?v=r8g0W7W1OHY&feature=youtu.be
Zwift already rolls out a number of pre-structured workouts that have been created by professional coaches for individuals to use and train with.
The online training platform says it will be adding extra content every month which will include group workouts and programs to allow Zwifters to take part in online training camps from home.
The group workouts are available to all Zwift users and can be found in the events section of the website or in the Mobile Link app. You'll be able to find 15 or so events scheduled throughout the day for you to take part in too.
Thank you for reading 10 articles this month* Join now for unlimited access
Enjoy your first month for just £1 / $1 / €1
*Read 5 free articles per month without a subscription
Join now for unlimited access
Try first month for just £1 / $1 / €1
Symon Lewis joined Cycling Weekly as an Editorial Assistant in 2010, he went on to become a Tech Writer in 2014 before being promoted to Tech Editor in 2015 before taking on a role managing Video and Tech in 2019. Lewis discovered cycling via Herne Hill Velodrome, where he was renowned for his prolific performances, and spent two years as a coach at the South London velodrome.