Qatar to build purpose-built circuit for 2016 Worlds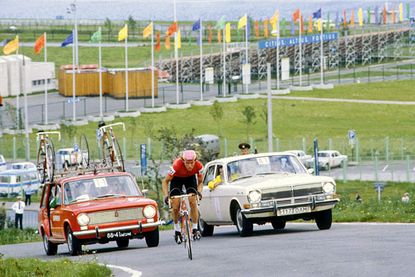 "Like the Moscow Olympics 1980" were the words used by a UCI spokesman when describing the purpose-built road race circuit to be constructed in Qatar for the 2016 road World Championships (CW June 20).
"It was very similar to Eastway," recalls former GB rider and current Rapha-Condor-JLT boss John Herety of the Moscow course. "It was wider, a little bit tougher, the bends were banked, and there were no [road] edges to it."
Purpose-built on the outskirts of the Russian capital, the 'Olympic Cycling Circuit of the Trade Unions Olympic Centre' was a 13.5km loop of hairpins, lumps and velvet asphalt, designed to suit the brute strength of the riders from the former Eastern Bloc, many of whom are now known to have benefited from a state-sponsored doping regime.
The day's winner, Sergei Sukhoruchenkov from the Soviet Union, collapsed after crossing the line almost three minutes ahead of his opposition. Behind, Herety was left to fend for the minor placings with Marc Madiot, Adri Van der Poel and Stephen Roche, then all amateurs.
Whether the course in Qatar will suit the rainbow dreams of Mark Cavendish remains to be seen, but he'll certainly hope his experience is different to that of 33 years ago. Training in the three weeks leading up to the Moscow race was either on the circuit, or on the Moscow-Minsk Highway, an eight-lane motorway flanked by armed guards every 50 metres, a recurring feature of the Games.
"I arrived a little bit late to the start of the road race but I got stopped by a soldier who pointed a rifle at me and would not let me go through, despite me having my numbers on and everything," Herety adds. "I had to get my bike on my shoulder and run around the back of the grandstand, cyclo-cross-style, just to start the race."
This article was first published in the June 27 issue of Cycling Weekly. Read Cycling Weekly magazine on the day of release where ever you are in the world International digital edition (opens in new tab), UK digital edition (opens in new tab). And if you like us, rate us!
Thank you for reading 10 articles this month* Join now for unlimited access
Enjoy your first month for just £1 / $1 / €1
*Read 5 free articles per month without a subscription
Join now for unlimited access
Try first month for just £1 / $1 / €1
Richard Abraham is an award-winning writer, based in New Zealand. He has reported from major sporting events including the Tour de France and Olympic Games, and is also a part-time travel guide who has delivered luxury cycle tours and events across Europe. In 2019 he was awarded Writer of the Year at the PPA Awards.