Abby-Mae Parkinson signs with Lotto Soudal Ladies for 2020 season
The 22-year-old moves to the Belgian squad after three years with Drops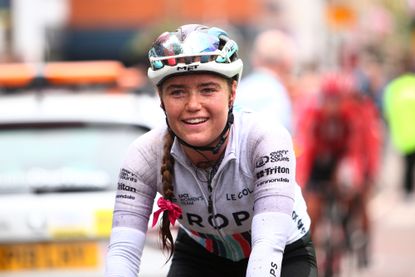 (Image credit: Getty Images)
Abby-Mae Parkinson has signed with Lotto Soudal Ladies for the 2020 season following three years with the Drops squad.
The 22-year-old Brit has signed a one-year deal that will see her racing alongside the likes of Lotte Kopecky, leaving behind a mostly British squad at Drops.
>>> Investigation: What does it take to get from the Zwift Academy to the pro ranks?
Parkinson says she's looking foward to racing in the Classics at her new Belgian team, saying her native Yorkshire has enarmoured her to the tough conditions of such races.
"I'm excited to start this new adventure. Lotto Soudal is such a great team and racing for the team will offer me a lot of opportunities. I'm very much looking forward to racing next year and helping out my teammates," Parkinson said.
"I'm more of a Classics rider myself. I'm from Yorkshire, so I'm used to bad weather and I like racing in tough conditions. My favourite races are Tour of Flanders and Strade Bianche. The crowds are epic and both races are just so iconic."
For her first year Parkinson plans to play a supporting role for team-mates such as the Belgian Kopecky, but she also dreams of winning a race like the Tour of Flanders or Strade Bianche one day.
"Next year I want to help out my teammates wherever I can. I've never been involved in a proper lead-out, but I'd love to practice that next year and help out Lotte Kopecky and the other fast girls. I hope to have some chances of my own in smaller races, where I can race aggressively. I love making a race and being able to attack. If we race in the UK I would of course like to show myself to the crowds," said Parkinson.
"I have big dreams for the future too. Every professional cyclist wants to be a world champion or Olympic champion. Winning a monument like the Tour of Flanders or Strade Bianche would be a dream come true too. Maybe one day. Fingers crossed."
Parkinson has spent the autumn racing cyclocross as part of Tom Pidcock's Trinity Racing team, riding in the Superprestige series.
While riding for Drops she has been living in Nice, France, and after returning to the UK for Christmas will head off for a training camp in Gran Canaria before the new season begins.
"I've lived in Nice for three years now. The weather is so much better than where I live in the UK, where it's always raining. Here in Nice I'm able to train in the sunshine and the training roads are beautiful. But I'll go to the UK to spend Christmas with my family," Parkinson said.
"This winter I'm riding the Superprestige series. Cyclocross complements my road training. It gives me the speed that I need. As a junior I did cyclocross and became multiple national champion, but I hadn't done it for the past five years. It was a bit of a shock at first, but now I'm used to it again. At the beginning of next year I'll plan a training camp in Gran Canaria to further prepare for my first road season with Lotto Soudal."
Thank you for reading 20 articles this month* Join now for unlimited access
Enjoy your first month for just £1 / $1 / €1
*Read 5 free articles per month without a subscription
Join now for unlimited access
Try first month for just £1 / $1 / €1