Bottrill clocks new record for A25/25 course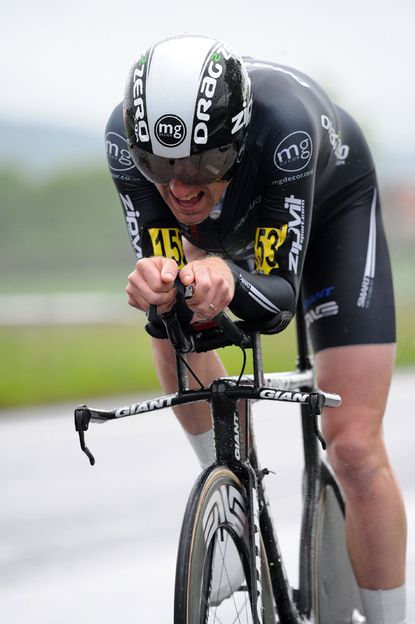 One week after his national 100-mile championship win, Matt Bottrill was in record-breaking form to secure a two-minute victory in North Notts Olympic RC's Janet and Brian Woods 25-mile time trial.
Going into the event with no real expectations, Bottrill (www.drag2zero.com) powered round the A25/25 course at Carlton-on-Trent in a record 48-04.
"I surprised myself," said Bottrill, who averaged more than 31mph for a winning margin of 2-19 over Adam Gascoigne (Team Pedal Power). "I've been tired all week and I really thought I would have nothing in my legs coming into the race."
Runner-up to Bottrill in the 100, Andy Bason (Team Pedal Revolution) bounced back to clock the fastest time of the year for the distance with a winning 3-36-50 in the Eastern Counties CA event at Besthorpe.
Bason led a clean sweep of the top three places for his team on the four-lap Norfolk course, Nik Bowdler finishing second in 3-41-45 and Mark Arnold, 3-48-25, third.
Joel Wainman (Team Swift) won the Yorkshire CF 100 in 3-44-59, finishing well clear of nearest rival Carlos Riise (Shetland Wheelers), 3-51-54, on the Topcliffe course.
Seven riders broke 50 minutes in API-Metrow's Zak Carr Memorial 25 on the E2/25 course at Newmarket, led by Gavin Atkins (Hemel Hempstead CC) in 48-45.
Rain and spray put the event in doubt, but conditions improved sufficiently for it to be given the go-ahead although, as the wind dropped, the rain returned before the finish.
Atkins, who acknowledged his good fortune after later removing a flint from his back tyre which promptly deflated, finished clear of Peter Balls (West Suffolk Wheelers), 49-26, and Sam Barker (Planet X RT), 49-29, with Ken Platts (Cambridge CC) clocking 49-57 to become the first 60-year-old to break the 50-minute barrier.
West Country specialist David Kiddell (Cavalier CC) posted his fastest time in some years for the Podimore course as he won Yeovil CC's 25 in 55-07, beating Tom Alliban (Revo Racing) by exactly a minute.
James Coleman (Witham Wheelers) had a winning margin of 40 seconds in Lincoln Wheelers' Charity 10 at Ingham Top, clocking 20-22, while two seconds separated winner Giles Harrison (Blumilk.com), 21-11, from second-placed Jason Bateman (Pendle Forest CC) in the Border City Wheelers 10 at Cockermouth.
Last man off, Stephen Whitewick (Contre La Montre) justified his seeding by clocking 20-07 for victory by 44 seconds over Russell Kober (Hainault RC) in North Hampshire RC's 10 at Bentley.
Paul Grindley (Liverpool Century RC) was over one and a half minutes clear with a winning 53-51 in Birkenhead North End CC's 25 at Pulford, in Cheshire.
Related links
Bottrill wins National 100 mile time trial
Cycling Weekly's time trial news section
Thank you for reading 10 articles this month* Join now for unlimited access
Enjoy your first month for just £1 / $1 / €1
*Read 5 free articles per month without a subscription
Join now for unlimited access
Try first month for just £1 / $1 / €1
Snowdon Sports is a long-established independent sports news agency, which supplies editorial to a range of media outlets - such as Cycling Weekly - as well as sports governing bodies. Snowdon Sports often covers results at Cycling Time Trials events in the UK and has long been a source of information and imagery to Cycling Weekly.